Kendall Jenner Covers 'Vogue'; Talks Caitlyn: "You've Got a New Person to Love"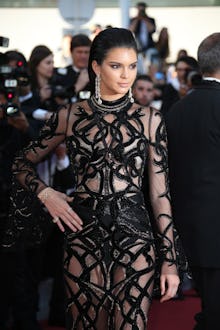 Although she had an entire 52-page-long special issue dedicated to her in April, Kendall Jenner had yet to land a much-coveted cover of Vogue — until now that is. On Thursday, the 20-year-old excitedly revealed on Instagram that she was the magazine's coveted September issue cover star. 
"In a room with a bunch of people I love, looking at this cover made me cry," Jenner, or, "The Face That Launched A Billion Likes," as Vogue dubbed her, captioned the post. "I FUCKING DID IT. SEPTEMBER VOGUE. This is the coolest thing ever! Can't thank you enough Anna, for giving me the honor."  
But not so surprisingly, as she is the least problematic of the Kardashian/Jenner squad, the accompanying interview is a bit of an elongated snooze-fest. Inside, readers learn plenty about her driving skills and Corvette. 
She also discusses her modeling career and how important it was for people to realize it was not a gimmick. Or, in other words, for people to see her as more than just another Kardashian. 
 "I love dressing down and having my private life."
"Obviously, my success came after my sisters' — I got to see all of their mistakes and watch out for them," she said. "... I was trying so hard to be taken seriously, like, 'Guys: This is not a joke or a stunt; this is what I want to do with my life.' I had to prove that I could do it." 
Kim Kardashian West, who also spoke to Vogue for the interview, is not afraid to admit that the family name might've worked against her. "Coming from a reality show, people look down on that — a lot of people in the fashion industry don't respect that world," Kardashian West said. 
And then Jenner explained why she might come off more boring than the rest of her sisters. "They've always been into the glam thing and dressing up every day and being in the thick of it," Jenner said. "Part of me loves that, but at the same time, I love dressing down and having my private life." 
Perhaps the most interesting parts of this article were the sections that were less about Jenner and more about her father. She discussed exactly how she first found about Caitlyn. 
"At one point Kylie and I thought [my father] was cheating on my mom, because [we found] makeup and nail polish," she said. "One time we found those squishy boob things. We found wigs. And then one time I actually ran into her ... She would wake up really early just so she could dress up and move around the house and get that little kick for the morning, and then go back to being Bruce."
She added, "My mom knew. She knew since their third date." 
Jenner said that she often gets sad when she sees a picture of her dad before her transition. "It's all supernormal now," she said to Vogue. "It's not weird at all ... You have to get past it — you've got a new person to love." 
Interview aside, Jenner's fans have taken to Instagram to congratulate her. "So proud of you @kendalljenner," one fan commented on her post. "Congratulations @kendalljenner well deserved," said another.
And as yet another said, "keep shining gurl!" 
Watch a so-not-scripted video of Jenner seeing her cover for the first time below: