Mothers of the Movement Documentary Shows the Humanity of Women Touched by Violence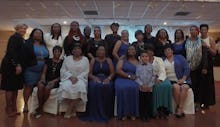 It's not a sorority they willingly pledged.
But in a newly released documentary, a group of women who are increasingly referred to as the "Mothers of the Movement" say they've opted to be conduits of change in a nation too familiar with police conduct that extinguished the lives of their black sons and daughters.
Mothers of the Revolution, a short film produced by the Campaign for Black Male Achievement and Blackout for Human Rights, features nearly two dozen women who lost their children in shootings and other uses of excessive force by law enforcement. 
Included in the group are the mothers of Michael Brown, Eric Garner, Tamir Rice and Sandra Bland, whose names have become synonymous with the movement for black lives. 
The nearly six-minute long film strings together footage from an event organized in February by Wanda Johnson and the Oscar Grant Foundation. Johnson, whose son, Oscar Grant, was slain in 2009 by a public transit police officer in Oakland, California. Johnson brought the women together to celebrate what would have been Grant's 30th birthday.
"Each mother's strength really, really came through," the film's director Davia Carter said Thursday in a phone interview. "I really listened to what they each had to say and cut that together."
Carter said she wanted to convey the theme of "strength through tragedy." In the film, Theresa Smith describes the experience of losing her son, Caesar Ray Cruz, to police violence. Cruz was fatally shot by officers in a Walmart parking lot in Anaheim, California, in 2009.
They never talk about this — the aftermath of what they've done to our loved ones. We don't have time to think or do anything. Our first instinct is to protect our child, to defend them whether they are here or not. ... We get up every morning, even if we don't want to. I get sick of this, every single day, of hearing [police] kill someone. And I'm tired. I'm tired.
Some of the women speak about relying on their faith to take on the role of spokeswomen for their children. "All of us are faith-filled women," said Geneva Reed-Veal, the mother of Sandra Bland, who died in jail three days after a traffic arrest in Waller County, Texas, in July 2015. "We are frustrated, but faithful. And so when you see us, you see power. You see strength."
"[The film] puts a face to these deaths," Carter said. "It's easy for someone to dismiss police violence. But who doesn't relate to a mother and her pain? You can't deny that."
The mothers' public profile has increased in recent months. Several of them appeared in July at the Democratic National Convention to endorse the party's presidential nominee, Hillary Clinton. (However, Johnson noted that not all of the mothers appearing in the documentary have offered an endorsement of Clinton.)
And in April, Beyoncé's visual album Lemonade featured several of the women paying tribute to their children — Johnson, along with Sybrina Fulton, the mother of Trayvon Martin; Gwen Carr, Garner's mother; and Lesley McSpadden, Brown's mother. 
Carter said she felt honored to help showcase the plight of the group. "But, unfortunately," she said, "it gets bigger every year."
Aug. 19, 2016, 12:15 p.m.: This story has been updated.