Donald Trump Can't Seem to Decide If He Really Thinks Barack Obama Founded ISIS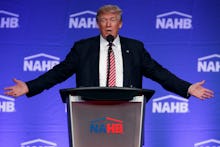 After three days of saying President Barack Obama was the literal founder of the Islamic State terrorist group, also known as ISIS, Donald Trump on Friday claimed he was just being sarcastic — a bizarre end to yet another controversy surrounding the Republican presidential nominee.
Trump first said Obama was the literal founder of ISIS Wednesday night during a rally in Florida.
"ISIS is honoring President Obama. He is the founder of ISIS. He is the founder of ISIS, okay?" Trump said. "He's the founder. He founded ISIS."
On Thursday, multiple conservative media figures attempted to give Trump an out, saying what he really meant was that Obama's policies help lead to ISIS' rise — not that he literally founded a terrorist organization hell-bent on attacking the West.
"Last night, you said the president was the founder of ISIS. I know what you meant. You meant that he created the vacuum, he lost the peace," conservative radio host Hugh Hewitt suggested to Trump in an interview Thursday.
"No, I meant he's the founder of ISIS. I do," Trump answered. "He was the most valuable player. I give him the most valuable player award. I give her, too, by the way, Hillary Clinton."
The flap is the latest self-inflicted controversy Trump had gotten himself into, thanks to his imprecise and "sarcastic" use of words.
Earlier this week, Trump had to explain away a statement in which he called for "Second Amendment people" to take action against Clinton, the Democratic presidential nominee.
The controversies, in part, have led to a dramatic slide in the polls for Trump, who now trails Clinton by an average of more than six points, according to RealClearPolitics.