Sure this year's September issues are diverse — but here's why that's not real progress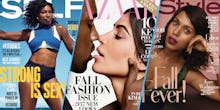 There's a reason there was a documentary dedicated to the September 2007 issue of Vogue. And it was more than just to go behind the scenes of the world of the ever-so elusive Anna Wintour. A fashion magazine's September issue is often its largest and most influential, reeling in a staggering amount of advertisers and housing a new year's worth of trends. 
With that in mind, we decided to look at the September covers of 17 major publications, and their covers for past two years, to see how well they've done in terms of diversity. Why? Because it's no secret that high fashion magazines lack inclusivity. Take 2015, for example. Out of 136 covers from popular magazines, only 27 people of color were featured, according to Fashionista. 
There is a long list of people of color starring in films, on TV or releasing new albums, but, even so, these publications rarely select one of these people as their September cover star. In fact, although magazines are more diverse than they were in 2014, over the past two years, the amount of people of color on the cover of September issues has remained quite stagnant. In 2015 and 2016, out of 17 covers, six people of color were featured. 
And when these people are selected for the cover, the celebrity often shares it with someone else, like Kanye and Kim Kardashian West on Harper's Bazaar, or, in the case of Rihanna on W or Jessica Alba on Allure, the publication simply pulls from the same limited pool of celebrities it has once already featured. 
Allure
For two years in a row, beauty magazine Allure has chosen Latina Jessica Alba as its cover star. In 2014, actress Chloë Grace Moretz was front and center. 
Cosmopolitan
Cosmopolitan had one woman of color — Demi Lovato — in the past three years on its September cover. In 2014, it was Lucy Hale and in 2016, Gwen Stefani. 
Elle
Elle hasn't had a person of color on its September issue within the past three years. In fact, there hasn't been once in the past 10 years. (Kate Upton, Katy Perry and Julia Roberts are just some of the names who have been featured.) 
But, to give Elle the benefit of the doubt, so far in 2016, the publication has had seven WOC grace its covers. 
Glamour
Glamour has failed to include a person of color for the past three years. It hasn't since 2011 when Rihanna was on the cover. But, unlike Elle which has done well in 2016, Glamour has had only one person of color, Serena Williams, on its covers this year. 
Harper's Bazaar
This year, Kanye West joined Kim Kardashian West on the cover of Bazaar. In 2015, Katy Perry was the cover star, and in 2014, it was Lady Gaga and her dog Asia. 
InStyle
InStyle's September 2016 cover star is Kerry Washington. It was Anne Hathaway in 2015 and Julia Roberts in 2014. 
Marie Claire
The last time Marie Claire put a celebrity of color on its cover was in 2008 with Eva Mendes. So far in 2016, it's had three on covers. 
Nylon
Aubrey Plaza, who is of Puerto Rican descent, was on Nylon's September 2014 cover. In 2015, Kristen Stewart was featured. This year, it's Winona Ryder. 
Redbook
Starting in 2015, for its September issue, Redbook has chosen everyday women — of different skin tones and body types — for its cover. 
"In a month that's as fashion-focused as September, it's so important to show that style can come in all kinds of packages — you don't need a size zero body or a million-dollar budget to be on-trend and gorgeous," the magazine's editor in chief, Meredith Rollins, said to Mic. "Real women are always a key part of Redbook, and putting them on the cover of our September magazine is the culmination of celebrating them year-round." 
Self
Self's past two September covers have featured women of color, with Kerry Washington and Serena Williams. And surprisingly, since health magazines tend to be fairly white, its 2013 cover star was Shakira and 2012 was Jessica Alba.
Seventeen
No people of color here. In fact, Seventeen hasn't had someone of color on its September cover since 2009 with Selena Gomez. On a positive note, Fifth Harmony, Tori Kelly, Bella Thorne, Michelle Obama have all appeared on 2016 covers. 
Shape
Ciara was on Shape's September 2015 cover, while Brooke Burke-Charvet was featured in 2014, and in 2016, it was Julianne Hough. 
Teen Vogue
Kendall Jenner, Ansel Elgort and Tavi Gevinson are not representative of the diverse covers Teen Vogue has recently had. Just within the past year, Fernanda Ly, Amandla Stenberg, Willow Smith, Gabby Douglas and Simone Biles have had covers. As for September, its most reason person of color was in 2012 with Selena Gomez.
Vanity Fair
Vanity Fair's past three September covers didn't feature a person of color. Jennifer Lopez was the most recent in 2011. 
Vogue 
Beyoncé, or just "B" as Vogue calls her, graced the cover in 2015. The year before, Joan Smalls shared a cover with fellow supermodels Karlie Kloss and Cara Delevingne. This year, Kendall Jenner has the top honor. 
W
Rihanna covered both W's September 2014 cover and its September 2016 edition. In 2015, it was Gigi Hadid. 
Women's Health
The last person of color to cover Women's Health was Zoe Saldana in 2011. 
As tastemakers, magazines have the ability to take a stand and influence society. Take look at the above 2016 covers. Besides Self and Redbook are there any magazines that chose someone of a different body shape. Say, someone who isn't stick thin? The answer is no. Same goes for someone who isn't cisgender. 
Instead, two magazines opted for a Kardashian/Jenner, two recycled previous September cover girls and many chose a popular white woman. 
As Twitter would — and has — put it, it's great to see black girl magic on the covers of W, InStyle, Bazaar, Redbook and Self, and Alba, a Latina, on Allure. But it's not enough. A few covers this year and last isn't going to be the trigger that leads to inclusivity on runways or in ad campaigns. They just simply aren't going to change the fashion industry like magazines have the ability to do.
Here's some cover suggestions: Constance Wu. Tracee Ellis Ross. America Ferrera. Taraji P. Henson. Leslie Jones. Laverne Cox. Viola Davis. These are just some actresses of color that these publications could've chosen for their September issues. Maybe then they can be seen as trendsetters leading the charge for inclusivity in the fashion industry instead of opting for a safe celebrity that might cross "diversity" off its checklist.