'The Get Down' is the Queer Hip-Hop History We've Been Waiting For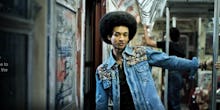 Hip-hop has always been queer. 
Some of its very first hitmakers were part of, if not closely adjacent to, queer communities, and some of its first musical and technical innovations premiered at gay clubs. But it's not the history fans usually read.
What they read are 50 Cent's bizarre endorsements of gay marriage — as long as gay men don't "touch your buns" in elevators. They read about rappers like Eminem and Tyler, the Creator trying to defend their frequent use of the word "faggot." Or Kanye West's 2005 observation that, to much of the hip-hop community, "the exact opposite word of 'hip-hop' is 'gay.'"
Stories like these contribute to the popular concept that the history of hip-hop is one long homophobic mess. However, that's a gross oversimplification of history. Homophobia in hip-hop is pervasive, yes, but the first installment of The Get Down — the new star-studded Netflix series chronicling the very beginnings of hip-hop circa 1977 — is determined to add nuance to this narrative. 
Over the course of its six debut episodes, soundtracked and executive produced by Nas, the show unearths the oft-overlooked contributions of some of hip-hop's early queer contributors. It makes a compelling case for the fact that without NYC's thriving LGBTQ late-'70s to early-'80s nightlife, all we know about hip-hop culture would be entirely different.
[Editors note: Spoilers for the first part of Netflix's The Get Down follow.]
The show opens with an introduction to Ezekiel Figueroa (Justice Smith) — aka Zeke and, later, MC Books — a half-black, half-Puerto Rican lovestruck poet from the South Bronx, trying to make sense of the crumbling world around him. New York City is broke, but the South Bronx seems broken, a place where unscrupulous landlords intentionally set their buildings on fire to collect insurance money, where jobs are scarce and gangs wage bloody battles over turf. Future New York City Mayor Ed Koch promises to crack down on lawless black and Latino youth by introducing law and order.
The series details the patchwork ways black and Latino youth survived such circumstances that were meant to destroy them. They paint colorful cartoons and messages on subway trains, they host underground parties in project building courtyards and rally around God-like DJs, who scratch records to make dancers come to life. 
What they're doing doesn't have a name yet. But it does have a more popular and much more commercially successful sibling: disco. In clubs and on dance floors all across the city, disco was the music that soundtracked the sexual freedom of the 1970s.
In one key subplot, burgeoning emcee Zeke utilizes his musical skills as a pianist to back his crush Mylene. Daughter to a Puerto Rican Pentecostal minister, Mylene dreams of becoming a disco diva, and after an epic showdown with her father, winds up recording a disco record in his church. The single shows off Mylene's undeniable vocal skills, but as the song's producer Moreno explains, the track won't go anywhere unless it earns the attention of the city's tastemaking DJs downtown. 
Almost all of those DJs happen to be gay.
As Moreno explains to Mylene's father in the show: "The radio don't sell disco records. What makes a hit a hit is if it proves itself on the dance floor where the sinners are. It ain't gonna be on the dance floor unless it gets in the hands of all the top DJ's in the city."
And not just any DJs, Moreno explains. "The top DJs are all, by and large, homosexuals." In reality, those DJs had names like Larry Levan:
And Nicky Siano:
And even openly gay singer Sylvester Sylvester:
While The Get Down does a good job of illustrating the intertwined history of disco and early hip-hop, it's the sixth and final episode of the season where the show really makes its point about queer communities' contributions to hip-hop. That episode follows Dizzee, a daydreaming graffiti writer who's part of Zeke's crew, on his adventure with Thor, a white graffiti writer from downtown. Thor takes Dizzee to one of New York City's legendary drag balls — one of the places where New York City's tastemaking homosexual DJs break new records. Dizzeee looks at the women dressed in elaborate gowns, voguing on stage and asks, "Are they boys or girls?"
Thor's friend, who's with the two, replies: "Boys dressed as girls, boys with girls trapped inside, boys changing into girls, girls who got tired of being boys."
Dizzee brings along a copy of Mylene's record, which he hands to Thor to give to DJ Carlo Pakoussa. By the time Pakoussa plays the record, Dizzee and Thor are caught up in the moment of revelry and lean in to almost kiss on another on the lips before stopping short and resting their heads together.
It's a moment that underscores an important point. The same musical innovations were driving both hip-hop and disco, and the same black and brown bodies were driving those innovations. Black and Latino DJs were breaking new music to the masses downtown and creating whole new cultures uptown. 
It's hard to overstate how important this is. Hip-hop has long been seen — and, sometimes, rightfully so — as a homophobic art form riddled with homoerotic gesturing. Many of its early gay icons chose to keep their sexuality private.
"Many in hip-hop are simply carefully navigating the waters of their sexuality," novelist James Earl Hardy once told Guy Trebay for the Village Voice. "These guys I refer to as homie-sexual are, clinically speaking, homosexual. But they very much take on a machismo that separates them from associations with words like 'gay,' 'queer' and most especially 'fag.' I would guess that this has a lot to do with safety, and with a culture that hates you because you're a fag and most definitely hates you because you're black." 
As recently as 2008, industry veteran Terrance Dean's tell-all memoir Hiding in Hip-Hop scandalized the culture by opening up about how pervasive so-called "down low" culture was in rap and its affiliated entertainment spaces. 
Today, we celebrate LGBTQ hip-hop artists for embracing a genre that's long shunned them. But The Get Down helps to put these out artistic identities like Mykki Blanco, Zebra Katz, Azealia Banks, Cakes Da Killa and Le1f's in perspective. Their voices are bold, but not entirely new. They're bringing the culture full-circle to embrace the influences that helped birth it.
"When I first found out about voguing as a teenager, it was an eye-opening experience because it felt like an innate way of moving," Le1f told Pitchfork. "A lot of my music is made with the intentions of movement and dance. But it's the cultural side — the experience of being at a ball — that's affected what I rap about. The fact that there's a scene that's existed for so long with such a rich history, and is ceremonial, is really nice."
It's a history that's been largely buried. Now, every kid with a Netflix subscription will be able to feel this same truth and understand that hip-hop has always been their genre, too, regardless of their sexual identity.