Michael Phelps' game face has been immortalized as a tattoo, of course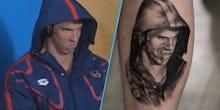 Michael Phelps' stink face will forever live on the internet as one of the best memes to come from the 2016 Olympics. But, for Ricky Fung, this simply was not enough. He decided to have the 23-time gold-medal-winning swimmer's hooded head permanently inked onto his calf. 
"And then my boss let me tattoo Michael Phelps on him #PhelpsFace," Livia Tsang, a tattoo artist at the shop Fung co-founded, wrote on Instagram. 
After NBC's official Olympics account reposted the ink, Phelps himself addressed the tattoo during a Facebook Live. 
"I don't know if the guy is watching this, whoever got that tattoo, that tattoo is amazing," he said on Saturday. "Dude put my face on his calf. That's awesome. That is so cool. Uh, I never thought that would happen. But pretty incredible."
According to Tsang, Fung had always wanted to get a sleeve of athletes and famous people. 
"I wasn't even a big Phelps fan before this, and I'm not really a swim fan," Fung told ESPN. "But just seeing him go out and win the way he has has been inspiring to me."
Phelps made what has been dubbed the #PhelpsFace while watching South African swimmer Chad le Clos shadow box prior to the 200 butterfly semifinal on Aug. 9. Le Clos beat Phelps at this event in 2012 in London, but Phelps ended up taking the gold this time. 
The 31-year-old might be "Done, done, done," with swimming, as he told Today's Matt Lauer early Monday, but at least he left the world with some inspiration and one glorious meme that will forever be with Fung. 
"Looking at that is a good reminder every day to go out with focus and dominate like he did," Fung said to ESPN.