Urban Decay launches Naked Ultimate Basics eyeshadow palette with more skin tones in mind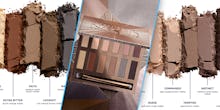 Urban Decay's newest product launch, Naked Ultimate Basics, is the brand's seventh Naked eyeshadow palette since 2010. But unlike its predecessors, Naked Ultimate Basics contains 12 brand new matte shades specifically created for a wider range of skin tones. 
"Naked Ultimate Basics features a true range of neutral mattes, from cool to warm," a press release read. "[It] is neutral enough for everything from cool skin tones to olive complexions to darker skin. We kept tweaking and perfecting the shades until they were absolutely perfect." 
Brand founding partner Wende Zomnir first announced the product in its Instagram comments on Sunday. 
"Every time we post on social, our community of rabid fans chime in to let us know what products they'd love for us to make," the press release said. "And one request started to show up more than all the rest." 
The palette is made up of "Blow," a light nude demi-matte; "Nudie," a soft pink nude; "Commando," a light taupe brown; "Tempted," a pale brown; "Instinct," a medium pink taupe; "Lethal," a reddish brown; "Pregame," a pale yellow; "Extra Bitter," a burnt orange; "Faith," a medium warm brown; "Lockout," a rich neutral brown; "Magnet," a smokey gray; and "Blackjack," a warm black. 
Urban Decay's Naked palettes are so beloved by makeup junkies that the brand has previously launched vaults containing all six versions of the product. Unsurprisingly, these vaults sold out in minutes. 
There seems to be just as much excitement for the new addition. "Oh wow!!! Need this in my life," one person commented on Instagram. "As if we need to be more broke," another said.
Some people are commenting that they'd still wish to see even more shades for people of color. "There are STILL TOO MANY fair shades for women of color," one wrote on Instagram. Another person said on Reddit, "The most disappointing part is that this really does not look like a POC-friendly palette." 
At least Urban Decay is taking steps to create products for people of all shades and tones — something that many brands fail to do.
Naked Ultimate Basics, which retails for $55, will be available on Sept. 18 on Urban Decay's website. Just hope that it's easier to acquire than Kylie Jenner's KyShadow.