Johnny Weir boldly claps back at internet troll who said he was a "bad drag queen"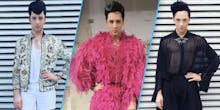 For the past week, former figure skater Johnny Weir has been covering the 2016 Olympics in Rio de Janeiro with gold medal-winning skater Tara Lipinski. Unsurprisingly, the 32-year-old who's known for his colorful fashion sense packed plenty of vibrant pieces for his on-the-ground coverage. 
But not everyone is receptive to his clothing choices. One stranger in particular decided to send Weir a nasty message saying, "You give gay people a bad name!! You are a bad drag queen. And not pretty! You come off as a sad faggot! Shame on you!!!"  
Weir used the negativity as an opportunity to address all those shaming people within the LGBTQ communities — especially those that are within the communities themselves. 
"This message was sent to me today," he wrote on Saturday. "I don't feature being called a 'faggot.' This has to stop. This jealousy and hatred from within my own community is stunting our growth."
"I wear the clothes that I like and clothes that entertain, which is my job," he continued. "At home, I am not this person. I can wear whatever I want because I can. If you aren't interested in me, stop following me."
Weir called out the stranger by name, saying, "I work on television, fly around the world all year to different events. What do you do Gary?" 
Hundreds have flooded Weir's comment section with support.
"You are always a bright light and a joyous presence. We stand with you. Don't ever change," one person wrote.
"You make people feel it's OK who, what and how you want to be," another said.
"This has to stop. This jealousy and hatred from within my own community is stunting our growth." — Johnny Weir
"You are a role model for many people who would otherwise be afraid to be different," yet another said.
For some reason, the Olympics in particular have brought unsolicited body shaming upon both hosts and athletes. As one commenter so brilliantly said, "Let 'em wear pink, let 'em wear cargo shorts, let 'em do whatever they fucking want."