Cam Newton Denies Racism Is Behind Criticism, As Other Black Athletes Embrace Race Debate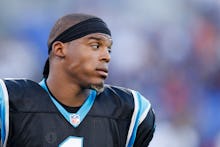 NFL star Cam Newton may have missed the memo about black athletes and speaking out on race.
In recent months, black professional ball players have increasingly discussed the role that race plays in their lives on and off the court. 
Newton, the Carolina Panthers quarterback who received last season's MVP award, seemed to deny in a recent interview that his race affects the way he is perceived by NFL fans. His flashy style of dress off-the-field, dancing in the end zone and general cocky demeanor are all sources of public criticism for Newton.
But the reaction to him is not about race at all, Newton told GQ for the cover story of its latest issue.
"I don't look at it like that," Newton, 27, said. "I look at it like some people have certain beliefs, and I have my own belief, and we can agree to disagree on certain things."
"I don't want this to be about race, because it's not. It's not. Like, we're beyond that. As a nation." —Cam  Newton
A handful of his A-list brethren in the professional sports world have taken a different approach to the race issue.
In the wake of a string of police shootings of black men across the country in July, NBA players used the opening segment of the ESPYs to condemn racial discrimination in policing and commit to being part of needed changes.
LeBron James, Carmelo Anthony and Dwyane Wade were among those featured in the segment.
Soon after the ESPYs, famously apolitical NBA icon Michael Jordan penned in July an essay about fatal police shootings of black people for ESPN's The Undefeated website. Jordan wrote that he was "deeply troubled" by the deaths, and announced $1 million donations to the NAACP Legal Defense and Education Fund and the International Association of Chiefs of Police.
In the GQ interview, Newton acknowledges that he and other famous athletes have a platform to start these discussions.
"This is what makes sports so amazing, that we can start a discussion around a table, in the newspaper, in the magazines, that will get people's attention," Newton said. "And that's what sports does."
On Monday, some people who caught wind of Newton's interview debated on Twitter whether his interview would set the race discussion back.
Judging from the online reaction to Newton's GQ interview, even when he tries to steer clear of race, other people have plenty to say.