This drag queen coated her tiara in HIV-positive blood to shatter a dangerous stigma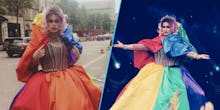 Drag Queen Electra la Cnt's outfit for the Belfast Pride Festival might not have looked out of the ordinary at first glance. After all, she was wearing a rainbow Cinderella-like dress and carrying a rainbow flag — ordinary by Pride standards. 
But less obvious was the statement she was wearing on her tiara, which was coated with HIV-positive blood in an effort to fight the stigma often associated with the virus. 
"My Violet Chacki-inspired princess ball gown is topped off with a beautiful tiara," la Cnt wrote in a Facebook post after the festival. "Look closely, and you will see the red hue. The crown is coated in the blood of a consenting HIV-positive donor, taken by a qualified doctor, then applied to the crown to dry, letting the virus die with it, to be sealed with a plastic sealant to protect myself against infection if rain were to liquify the blood again." 
She added: "We must educate ourselves more on how HIV is transmitted. I have witnessed the abuse received by HIV-positive brothers and sisters in our community; and this arises from ignorance, which leads to hate, and we become divided as a result." 
la Cnt's outfit was also in part response to the high court in England's ruling that the National Health Service in England can pay for drugs, like PrEP, or pre-exposure prophylaxis, that help protect people from being infected with HIV. While this might seem like "good" news, la Cnt points out that many media sites inferred that HIV is something mainly affecting gay people. 
As the Independent reported, a public health report from 2015 states that out of the 103,700 people living with HIV in the UK, 54,100 have been infected by heterosexual sex, while 45,000 men were infected after having sex with another man. 
"I am fully aware that heterosexual HIV-positive individuals outweigh the number of HIV-positive homosexual people in the UK now, but in light of this week's decision regarding the NHS funding PrEP our community are once again labelled as sexual deviants amongst the media who regard it as a 'gay disease,' and heterosexual HIV-positive individuals as innocent victims — we are all innocent victims," she wrote. 
la Cnt told PinkNews that the act has been "well-received by members of the public and social media." And this is further seen in the comments section on her Facebook post. "This is simply outstanding! Very well said, and a great message," one person wrote. "I'm glad people are educating themselves. It's so sad to see people I know with HIV getting so much hatred from ignorant people," wrote another. 
As seen by the slut-shaming-themed outfits Amber Rose and Blac Chyna wore to the 2015 MTV VMA's and the gorgeous gown outfitted with 72 different flags of countries that ban homosexuality that transgender model Valentijn De Hingh wore in early August, fashion, like something as simple as an accessory, jumpsuit or dress, can — and does — have the ability to spark a dialogue about oppressed or stigmatized subcultures. 
"We all have blood," she wrote on Facebook Tuesday. "We all cut and scar and walk around every day with little grazes that are exposed to the world. This was a statement piece meant to get people thinking. It certainly has. It's got people talking about HIV and it's transmission, so this is a good start."