The one thing you should be doing before you shave your face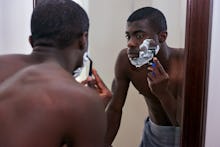 It might be easy to just throw on some shaving cream — or worse, soap — take a razor your face, and call it a day. But, if you're wondering why you so often nick your skin or have to shave two days later because your chin is already so itchy, you might want to rethink your lazy, two-step shaving regimen.
"The biggest mistake that [people] make when they shave [their face] is not preparing properly," dermatologist Jared Jagdeo said in an interview before a the Art of Shaving event. "The preparation step of shaving is so important, really getting your skin ready is essential." 
The Art of Shaving recently released a power brush meant to be used pre-shave in order to exfoliate the skin and decrease the amount of ingrown hairs and razor bumps. "It helps prime the skin and release any trapped hairs and brings them up at the right angle to be properly shaved, versus irritating it," Jagdeo said. 
He added: "Too many [of my patients] think that shaving is just putting on some sort of shaving cream. And then they come in and say, 'Doc, how come I have all these ingrown hairs.'" 
In general, Jagdeo said that those shaving their face should follow four simple steps. First, they should prepare their skin for shaving (like with a brush or oil). They should then lather up properly before using a clean shaving device (a razor). Lastly, he recommends moisturizing. 
As Genevieve Bochanty, the brand's national associate director of education and capabilities, explained during the same interview, "The better shape your skin is in, the better the shave."
The Art of Shaving's Power Brush is available for $40 on its website. Happy shaving!