What it's really like to shop for a swimsuit when you're plus size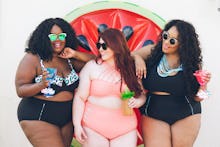 There are two types of people in this world: those who love swimsuit shopping and those who find it unbearably dreadful. The reality is, you likely fall into the latter category. 
Plus-size women, in particular, often have been expected to follow certain "rules" when it came to throwing on a bathing suit. Think: 'Wear a cover-up' or 'stick to a black one-piece.' And this is only further exasperated by stores not selling trendy items, and instead bland AF options, for curvy women. 
Thankfully, times are changing. Along with a body-positive movement that has been rampant as of late, more brands are producing suits for women of all sizes and shapes.
With that in mind, Mic asked 10 women, who happen to not be the body type that, say, Victoria's Secret has been flaunting for years, about the highs and lows they've experienced while shopping for swimsuits. Here's what they had to say. 
Maui Bigelow, runs lifestyle blog PHAT Girl Fresh 
"For me, shopping for a swimsuit is something that I only recently became comfortable enough to do. The younger less confident me didn't think that my fat body belonged in a swimsuit. The pool and beach time consisted of shorts and a T-shirt. Now that I am more confident about my body and could care less about what others think, I am here for a swimsuit. I think that for fat women (like myself) being confident enough to step out in swimwear is proof that [we] are brave and that [we] refuse to be held back by size or what society says you shouldn't do.
"I am excited to see the emergence of so many swim lines that cater to plus-size/curvy women. I think that the increase in options is an indicator that we (fat women) are moving in the right direction and that brands recognize that they have to cater to us fully or we will go elsewhere." 
"I think shopping for a bathing suit can be a stressful thing for all humans and when you're a woman you add 10 layers of anxiety and when you're a curvy woman you add another 10 layers... it's almost IMPOSSIBLE to feel like your fat body isn't something wrong that needs to be changed. I still struggle with my own confidence and have to keep pushing myself past what I've been told I 'can' or 'can't' wear. I've worn a lot of tankinis in my day, honey, but I'd love to feel confident enough to try on a two-piece that shows a little more skin.
"Last summer I decided I wanted a bathing suit that I felt great and even, GASP, sexy in and that wouldn't make me feel like I was apologizing for other people having to see my body. So I bought a teal one-piece with FRINGE and I wore it all summer and I luxuriated in it and not only did I not try to hide my body — I was showing it off and feeling fresh as hell."
Ragini Nag Rao, fashion blogger for A Curious Fancy
"Living in India, I can't really walk into a store and expect to find anything in my size. On the rare occasions that I do, I treat the event as a miracle. Which is why I do most of my clothes shopping online, including swimwear. It's not ideal but it's all I have. For me, wearing a swimsuit is inextricably linked with being a water baby. I'm so very in my element when it comes to water that I don't have any time or thought to spare about how I'm looking. I just assume I look great anyway because that's how confident swimming makes me feel."
But Rao wasn't always so confident with her own body. And for those that are still dreading swimsuit shopping, she recommends taking a friend. 
"It gets a lot easier when you have someone around who doesn't judge you for the way you look and would be able to offer helpful rather than critical advice," she said. "If you're still not at a point of body confidence where you can rock a fatkini without a care in the world — don't sweat it and don't be down on yourself. Learning to accept and fully inhabit one's body is a slow, gradual process involving lots of baby steps." 
Essie Golden, runs the blog Essie Golden
"For the past couple of years my swimsuit shopping experience has been really amazing. Swimsuits have come a very long way since I was a teenager and it's finally something I look forward to. It's awesome to have swimsuits that are trendy and similar to items you would find in straight sizes. Fit, comfort and quality of the piece are always most important to me when I try on a swimsuit. I always make sure I feel confident and look good. Swimsuits are not something any woman should feel afraid about. As long as you feel comfortable put one on and enjoy your summer." 
Since 2015, Golden has been holding Golden Confidence pool parties as a way for plus-size women to come together and feel confident in a swimsuit. 
"It was started to give plus-size women a comfortable and safe space to be surrounded by women who look like them," Golden said. "Women said they were scared to wear swimsuits in public for fear of being judged or made fun of. They told me if they had a safe space or friends to go to the beach or pool with, they would feel confident enough to wear swimwear... The environment of the event is so positive, women are giving each other compliments, taking tons of pictures and their confidence shines through." 
Pepper Martin, the face behind Pretty Plus Pep
"I was so afraid of wearing a swimsuit years ago. I thought everything about my body was never perfect enough to be in a two piece. Now I feel completely different. Everything about me is swimsuit ready and I love showing it off... I understand when someone is not comfortable with a look as a stylist I just encourage them to find one thing they love about their body and show it off in swimwear. The selection for swimwear is so large now for plus-size women and we shall never be forced into a mumu on a hot beach again."
"There was a time where I would loathe shopping for a bathing suit. There was not much that was fun, appealing or that made me feel amazing... until now. Now that I got a favorite silhouette down pat for my shape, I am always eagerly looking to see what is out there and what I can add to my now growing collection. Plus-size women have forever been subjected to all kinds of rules. I say, find a rule and break it. There is so much freedom and a space for growth in confidence and self love in that. All these rules do is confine, restrict and hinder us from self expression."
Amanda Montgomery, blogger behind Latest Wrinkle
"For most of my life, bathing suit shopping has been not only challenging, but emotionally exhausting. All of my friends would be shopping for straight-sized bikinis, and I just wanted a suit that covered my body without looking like something my great aunt would wear to the pool. I had all these parts of my body that needed to be covered for me to be comfortable — belly, thighs, etc. For a long time I could not find suits with the coverage I felt I needed, let alone in a design that may be remotely in style."
Montgomery has been on a long journey toward body acceptance, one that she says will never come to an end. "Last year was when I really began to see women my size in bikinis or 'fatkinis,' and that rocked my world in the best way possible," she said. "This year, it wasn't even a question, I knew I had to buy my first bikini, and I was shocked how it made me feel. I was expecting to feel self conscious and aware of my body. However, all I felt was empowered and beautiful." 
Kristine Thompson, blogger behind TrendyCurvy 
"I have a love/hate relationship with bathing suit shopping. As a curvy girl, it has been a struggle for many years to find something that is figure flattering, supportive and cute to wear to the beach or a pool party. Many styles were outdated and not trendy whatsoever. Even today, plus-size women don't have nearly the amount of options for swimwear as a woman that is smaller however, we have come a very long way. I love the movement of breaking the rules of what curvy women should and should not wear. Traditionally one-pieces and cover-ups were the norm and now we are seeing bikinis and monokinis become the standard. While the majority of retailers are still only available to us online which makes it difficult to have a true shopping experience, I still love the direction that it is going."  
"My personal experiences up to this past year were pretty nonexistent. I owned one plain black one-piece bathing suit for the past four summers. I had a phobia of bathing suit shopping because it seemed like every time I tried, I struck out with every choice. I would I say before I found the wide array of super cute options out there for young plus size women, swimsuit shopping was horrible. It was something I avoided for years, because I didn't want to deal with the audience, the unflattering choices, the sinking feeling when you can't find anything that looks OK on your body. But now, my opinion has changed completely. I enjoy swimsuit shopping.
"I'm so happy to be able to wear a bathing suit now and say, I look great in it, it's in style and it's my size... We are no longer limited to the back corner of the department store with five styles available."
"When I was younger I did not have an interest in swimwear because the options were just basic black one-piece, or ugly looking florals. Within the past three years the scope has changed. Brands like Forever 21+ and Monif C really pushed the limit when it came to what swimwear for a plus-size woman.
"I got over the fear of my body years ago. My concern is the fit and the support — nothing else." 
As many of the women have pointed out, within the past few years more and more brands like Forever21+, Torrid, swimsuitsforall and Monif C have been creating bathing suits for women of all sizes. Even so, these options are often online only and many women don't have the luxury of shopping in stores. 
But, at least many brands are slowly realizing that curvy women too like to wear trendy and flattering bathing suits. Bottom line? As most of these women said, wear what makes you feel comfortable, not what you believe society wants you to wear. 
"We're often so afraid of what others may think that we stop ourselves from living," Golden said. "No one's opinion of our bodies should matter that much. You can wear whatever you want. Don't let other people's opinion stop you from enjoying fashion."