Ariel Winter sounds off on body-shaming trolls: "Everyone has a butt."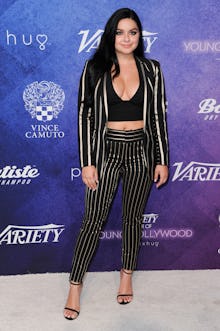 Ariel Winter, like all other humans on this planet, has a butt. But, unlike the rest of the population, this 18-year-old (yes, 18) often finds herself having to defend images she posts that feature said booty. Sorry, trolls, this actress DGAF about what you think. 
"I like my fans to see what I'm doing," the Modern Family actress told Entertainment Tonight on Tuesday. "Everybody is so hyped up on the fact that I post photos where my butt's out. It's a butt. Everyone has a butt. I don't think it's crazy." 
How hyped up exactly? Two weeks ago Winter uploaded an image in which she was wearing jean shorts. Things like "Orrrr... You can wear non-booty shorts," "maybe you shouldn't cut your shorts so high that your entire ass is out" and "Omg I prefer the nerdy Alex instead of the slutty Ariel," are just some of the comments that flooded this image. And this image. And this one. 
And it's not just her derrière that people have a problem with. She gets shamed for any and all photos that show the slightest bit of skin. In June, Winter made headlines after she addressed trolls who taunted her for the dress she chose to wear to her graduation party. "That dress is a bit too booby," someone said on Instagram. 
The princess of clapping back (we give the queen title to Zendaya) isn't going to let the haters stop her from doing her thang. Her "thang" being wearing whatever the eff she wants and posting photos she likes without worrying that someone might be offended.
"It's like, 'Let me live! I'm enjoying my life, you're enjoying your life, you should be posting your butt if you like it, too!'" she said to ET. "I'm not going to fight with someone on my Instagram that tells me they don't like my outfit or I should put my butt away. I'm sorry you think I should put my butt away, but just unfollow me."
Winter, who's previously openly discussed her struggle with body image and decision to have her breasts reduced, told Entertainment Tonight that she's been lucky to have had role models, like fellow Modern Family actress Sofia Vergara, in her life. 
"Working with a curvy beautiful woman that everybody looked up to and loved the way she looked... that was my inspiration to move forward and accept myself because that's what matters," she said. 
We don't know when people will realize that this 18-year-old has the right to do as she pleases, but one thing's for sure, and it's that Winter isn't going to think twice when she uploads a bikini or booty shorts pic. As one commenter so brilliantly commanded, "LET HER HAVE FUN."