Chrissy Teigen showed off her stretch marks — and Twitter is here for it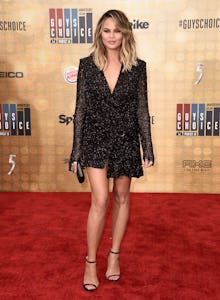 As you might know if you follow her on one of the many forms of social media, Chrissy Teigen is no stranger to keeping things real. So real that she took to Snapchat Tuesday evening to show off her tributaries — er, stretch marks.
"Lol my thighs have tributaries," she wrote, with an assist from the crying emoji. 
While many people have similar marks, they are more often than not considered "flaws," digitally erased in advertisements and magazine editorials. 
And for that, along with basically everything else Teigen has said on Twitter — especially when it comes to motherhood — fans have flooded social media with support and a huge, collective "SAME." 
The new mom previously received praise in April 2015 when she shared a similar image on Instagram and announced that she had decided to stop using apps to alter her body. 
"People on Instagram forget that you're showing them what you want them to see," Teigen said to InStyle in May. "We have filters. You're able to shoot yourself at these angles where you're proud of the photo. I would hate for anybody to think that I didn't get a stretch mark, or that I don't still have a dark line on my belly." 
As a supermodel and celebrity mom with a huge following, Teigen has time and again helped to usher in a new idea of beauty. Like one Twitter user wrote, "Thank God for @chrissyteigen," which can obviously be shortened to TGFCT!