This anti-racism group just built a memorial to lynching victims — and it's about time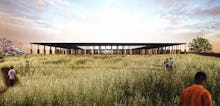 In recent years, Washington, D.C., has seen memorials built to honor civil rights icons Martin Luther King Jr. and Rosa Parks. And the nation has opened the wildly popular Smithsonian museum dedicated to African-American history.
But the country has yet to erect a memorial to the victims of Jim Crow-era lynchings — a fact that one Alabama-based racial justice group has been determined to change since August 2016.
Until now. On Thursday, the Equal Justice Initiative opened the first national memorial to lynching victims in Montgomery, Alabama.
The memorial coincides with the opening of a museum that focuses on African-American history, from centuries of enslavement to modern-day mass incarceration. The memorial's creators said they hoped to help evolve the nation's perspective on its racial history, especially its most horrific moments.
"Our goal isn't to be divisive," Bryan Stevenson, the director of the Equal Justice Initiative, told the New York Times. "Our goal is just to get people to confront the truth of our past with some more courage."
Titled "Memorial to Peace and Justice," the EJI project sits on six acres of land that used to be a public housing project in Montgomery. The structure includes the thousands of lynching victims' names on concrete columns, which will represent hundreds of U.S. counties where the acts took place.
Lynchings were a form of racial terror largely inflicted on African-Americans in the U.S., during slavery and after its abolishment. Often carried out by mobs of whites, the act was meant to instill fear in blacks and to maintain white supremacy in the Deep South.
Although the act became less prevalent during the civil rights era, it never became expressly illegal under federal law to lynch someone. A Missouri congressman, Leonidas Dyer, introduced an anti-lynching bill that passed the House of Representatives in 1922, according to the NAACP. But the legislation was was filibustered in the Senate and never managed to get through Congress in subsequent attempts.
In its 2015 report, EJI documented more than 4,000 lynchings of African-Americans carried out between 1877 and 1950. The report includes several hundred that had previously gone unrecognized.
It's time to recognize them.
April 25, 2018, 2:21 p.m.: This story has been updated.