The "100 Layers of Wax Challenge" is, well, in a word: yech, yech, yech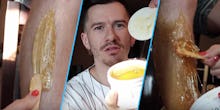 If you've ever had anything waxed, you know how painful it is regardless of what area of the body it is. And that's just one measly layer. No need to imagine how painful it would be to add 99 more layers because YouTuber ItsYeBoi has done it for you and the over 2 million people that have since viewed his video.  
"This is pretty much the only idea that I could think of that hadn't already been done," he said before having a friend apply 100 goopy layers of wax to his shin. "It's probably going to be very difficult to take off and also really fucking painful." 
Here is what one, 10, 30, 50, 65 and a little more than 100 coats of wax look like. (He decided to just finish out the jar of wax and do more than 100.) 
1 layer
10 layers
30 layers
50 layers
65 layers
Over 100 layers
Removal
And now for the best part of the video: the removal of the wax. It's very clear why ItsYeBoi decided to include the words *extreme pain* in the title of the video. 
We have one question: What's worse? Having 100 layers of wax (and hair) pulled off your leg or getting one bikini wax? Hmm.