This super honest "Interview Underwear" lets your crotch do all the talking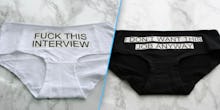 Have you ever met someone who said they enjoyed interviewing for jobs? No, you haven't because interviews are terribly time-consuming, sweat-inducing, awkward and, more times than not, end with the employer ghosting you.
Thanks to recent graduates Sophie Chapman and Philippa Taylor, who struggled to find the right position post-college, you can at least voice said frustrations... with your crotch. 
Chapman and Taylor, who started a social movement titled Aspiration Suits to create a platform for "the next generation of creatives," are selling undies with statements and gestures that you'd probably love to say mid-interview, but unfortunately cannot. 
"Interview pants. To be worn to an interview," its website reads. 
There's a pair that states "I don't want this job anyway" and one with a middle finger.
Other options include undies with "I would tear people a new asshole as much as the next person" and "Fuck this interview." 
There's also undies that say "I am a massive worker" and a white button down with the words "fucking professional" on its collar. 
While the undies could represent all job interviews in general, Chapman and Taylor told the Huffington Post U.K. that they were specifically referencing jobs you don't want but have to interview for to make a living. 
"I think it's something most young people can relate to — when you're going for a job that you don't want but you need to pay your extortionate rent," Taylor said. "You're there lying about how passionate you are about customer service, knowing they're going to be paying you minimum wage."
"A lot of our work is about overcoming all the anxiety young people have with humor."
But, besides just being a creative way to voice job-hunting struggles, the duo hopes their clothing items can empower young people in similar situations to find something they'd actually love to do. As seen by the political period panties created by Etsy brand Cute Fruit Undies in March, not only does fashion have the ability to spark discussions, but so do your undergarments. 
"A lot of our work is about overcoming all the anxiety young people have with humor," Taylor said to the Huffington Post U.K. "In these difficult times it's important to support and encourage each other. I would like young people to know how much value they have and feel empowered enough to say 'no.'