Masculinity is so fragile, there's actually a laundry detergent for men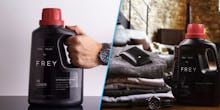 For so long, men have not been able to do laundry due to their oversized hands and business chopping wood and beating their chests. But that's all about to change. Thanks to Frey's "Detergent for Men," guys finally have the product they need to wash their own clothes without any assistance from their girlfriend, boyfriend or mommy. 
Yes, Frey, a brand headed up by two young brothers, Leif and Erin Frey, is selling a detergent, air freshener, stain remover and wrinkle releaser created specifically for dudes. 
"Detergent for Men is a detergent designed to fit man's lifestyle, and offer men a laundry product of their own," the website reads. How a man's lifestyle differs from a woman's, and why this would require the need for a separate laundry detergent remains elusive.
Frey's team seems to believe all dudes want to smell like Oak & Musk, as opposed to, well, all the "girly" scents that brands, like Tide and Gain, give off.  
"Oak, a symbol of strength and endurance, embodied by its austere scent of wood and wild forest, and Musk, a natural substance matched by no other in its complex, animalistic and earthy aroma, combine with the smoother, sweeter, warmer scent of sandalwood to form our strong base layer," the website reads.
The company is trying to "break down stereotypes" about "which genders do which household chores." How exactly? By gendering a product that is not already gendered. 
When specifically asked on Instagram why the brand decided to do just that, it responded, "it's already been genderized! We are offering men an alternative to all the detergents clearly tailored to women." 
Here is a look at "gendered" detergents they speak of: 
Unfortunately, but perhaps not unsurprisingly, this isn't the only detergent on the market designed for men. The brands Dirtyboy and Hero Clean also make products "built for men." These products join a long list of products designed specifically for men, including, but not limited to, yogurt, wine, soda, ice cream, sunscreen and tissues. 
Here's a suggestion: Guys can suck it up and break the stereotype all on their own and start doing their laundry with one of the detergents sold at Target instead of having to be enticed by the words "for men."