Dozens of women were photographed in their underwear for an inspiring new campaign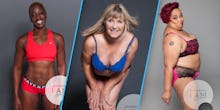 Stretch marks, cellulite, scars and body hair are just some of the "imperfections" seen in the new photo series "Underneath We Are Women." 
To truly showcase the diversity of women's bodies, one that isn't seen in most lingerie brands' advertising, Amy D. Herrmann, a photographer based in Australia, asked 100 women of all different ages, sizes, abilities and skin tones, to strip down to their undies and tell their own stories. The result will be chronicled in a physical photobook. 
"Society (us) have developed a myriad of stereotyped responses to certain body types," the campaign on Kickstarter, where Herrmann is raising money for the book, reads. "That is, the fat girl who needs the gym. The skinny girl who needs to eat more. The disabled woman who needs sympathy. The beautiful girl that is always happy. But these are simply programmed responses created by us and for us to suit a greater societal ideal for what is deemed acceptable and 'normal.'"
Herrmann, who began the project in June, has photographed 42 women. 
"The reactions I have received have been mixed," Herrmann wrote in an email. "Most love the project and can't wait to get involved somehow. I think people are able to see themselves in many of the women I have photographed so far. It's refreshing to look at a woman's body and feel you can relate." 
"Thank you for your beautiful posts!" one person commented on the project's Facebook page. "After an emotional few months It has given me the confidence to find my inner beauty again."
Facebook itself, which is notoriously known for removing images of women in lingerie who aren't a size zero, isn't so keen on the campaign. 
"Today I had images and links to the Kickstarter page removed from my feed and was then given a 24-horr ban from Facebook," Herrmann said. "The reason given was that I was posting nudity and sexually explicit content." 
But this, along with images Herrmann has had flagged on Instagram, only proves how necessary this campaign is to change what people deem as "appropriate" or the norm.
"Thank you for reassuring me as to why I began this project and for giving me that little extra motivation to keep pushing against these ridiculous societal standards that women face on a daily basis," Herrmann wrote after her Instagram photo that featured body hair was reported.
"I hope that eventually people can gain a greater appreciation of our physical diversity and also, through the stories that will accompany each woman in the book, better understand that each person is on an individual journey and more than often, our exterior is not a true reflection of that," she wrote. 
As of publishing, the Kickstarter campaign has raised $7,855 out of its $23,607 goal. It has 19 days left.