Report: After Laquan McDonald shooting, 7 officers may lose their jobs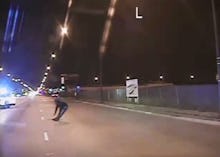 After receiving recommendations from Chicago's inspector general to fire 10 officers in connection to the fatal shooting of Laquan McDonald, Eddie Johnson, superintendent of Chicago Police Department, is moving to fire seven of them. 
According to the Chicago Sun-Times, Johnson agrees with the city inspector general's findings that some of the officers knowingly submitted false reports about Officer Jason Van Dyke's fatal shooting of McDonald on Oct. 20, 2014. The inspector general's report found that nearly a dozen officers lied about what happened when the white officer shot McDonald to death in 2014. 
Two of the 10 officers who were recommended for firing retired this week, according to media reports. Johnson decided he would not move forward with firing a 10th officer because he disagrees with the inspector general's finding on that individual, the Sun-Times reported.
The Chicago Police Board, a nine-member panel of private citizens with disciplinary oversight of the department, is now expected consider Johnson's recommendations on the seven officers, the Sun-Times reported.
Criminal justice experts and activists reached on Thursday said the firing of the officers in Chicago could signal to the entire nation that a culture of covering up law enforcement misconduct is no longer being tolerated. Amid years of nationwide protests over the police-involved deaths of African-Americans, activists called for the ending of the "blue wall of silence" that helped some officers escape prosecution in cases of excessive use-of-force.
"Chicago has become a place where we can start seeing policing and policing misconduct as more of a system of bad apples," Nicole Gonzalez Van Cleve, an assistant professor of criminal justice at Temple University and the author of Crook County: Racism and Injustice in America's Largest Criminal Court, said in a phone interview.
"It's not just one bad apple," Van Cleve added. "Jason Van Dyke was enabled by at least 10 officers — and I would go as far as saying an entire culture of a code of silence that police, prosecutors and judges are complicit in."
(Editor's note: The following video contains graphic images. View with discretion.)
Van Dyke faces a first-degree murder charge for fatally shooting McDonald, the 17-year-old who was wielding a knife as he walked away from officers. Dashcam video released in November contradicted accounts by officers on the scene that McDonald lunged at officers with the knife. The video shows that after the teen fell to the ground, Van Dyke continued pumping rounds into McDonald, hitting him 16 times.
Despite the objections of officials at city hall, the local prosecutor's office and the police department, a judge ordered on Nov. 19, 2015 that the footage be released to the public. Soon after, Cook County district attorney Anita Alvarez filed charges against Van Dyke, and Mayor Rahm Emmanuel replaced police Commissioner Garry McCarthy with Johnson.
The timing and circumstances of the McDonald case sparked protests led by local activists, including those affiliated with the national Black Lives Matter network. Fresco Steez, digital strategist for the Black Youth Project 100, said Thursday's move by Johnson is validation of what activists have been saying since McDonald's death.
"The fight is much larger and much more structural than the direct firing of officers who have engaged in misconduct," Steez said in a phone interview. BYP 100 endorsed the national Movement for Black Lives policy platform, which, in part, calls for accountability and transparency in law enforcement that is absent of the influence of police unions.
"The battle is not over," Steez said.
Experts and local activists said it was inevitable that a union would come to the embattled officers' defense. Before they can be terminated, the officers will get hearings on Johnson's recommendation before the Chicago Police Board. The panel makes decisions in disciplinary cases involving police misconduct, in proceedings that are open to the public.
The Chicago Fraternal Order of Police Lodge 7, the local police union, did not immediately respond to Mic's request for comment Thursday.
The Chicago Police Department does not have a history for dismissing officers who may have used lethal or excessive force that caused a civilian's death, Van Cleve said. That's part of the reason the city's inspector general, Joseph Ferguson, was brought in to investigate the McDonald case in place of the Independent Police Review Authority, which has almost always cleared officers in misconduct cases and lacks the public's confidence.
"It's one thing to hold someone accountable after the fact," Van Cleve said. "It's another thing to have a culture that disapproves of this type of police misconduct."
Aug. 18, 2016, 5:50 p.m. Eastern: This story has been updated.