Here's what it really costs to be a beauty blogger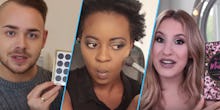 A single lipstick can cost anywhere from a few bucks to around $50. Now multiply this amount of lipsticks by 100 and you've probably reached just about a quarter of how many shades that beauty bloggers, you know, those people you see making tutorials on YouTube and testing out products on their blogs, have. 
And that's just lipstick. Add mascara, eyeshadow, liners, glosses, highlighters, concealers and foundations and imagine just how much one's collection might cost. 
Hint: It's a lot.
Sure, many bloggers are sent products to review, but some — especially those who have recently started writing or vlogging or even those who might not have relationships with the brands like others do — have to go to out and buy the latest products. One trip to the makeup counter might not cost nearly $1,200 like Kylie Jenner spent during her recent visit, but with as many new products that come out each season, the costs definitely add up quickly. 
Mic decided to ask six beauty bloggers about the money they've spent on makeup, as well as the other costs that might come with the responsibility of maintaining your own beauty blog.
"I had always wanted to start a channel, but was too scared to put myself out there on the internet," Paige, a beauty vlogger with over 160,000 subscribers on YouTube, said. "But one day I was bored — so I went to Best Buy, bought the cheapest camcorder I could find and filmed my first video." 
She continued: "My whole life basically revolves around YouTube. It almost feels like I eat, sleep and breathe my channel. Depending on the video, it could take anywhere between 6 and 12 plus hours to film, edit and upload a video. Most people don't really realize how much time and energy goes into being a YouTuber. It's quite honestly a non-stop 24/7 job if you let it become one." 
Although Paige is sent some products by PR companies, she said she finds herself in Sephora two times a week in search of new products to feature on her site. 
"If you love what you do, then it is totally worth all the time and money," she said. "And I love what I do. This is why it is so important to start vlogging for the right reasons. If you are not passionate about what you are doing, or if you are doing social media for the wrong reasons (many people start in hopes of gaining fame and/or money), then you will quickly realize that none of that comes without hundreds of hours of work." 
Arieh Simon
Simon, who has over 22,000 subscribers on YouTube, purchases most of the products he uses in his videos. 
"In a year, I probably spend $2,500 on makeup," he said. "I just cringed writing that. My whole collection is probably worth around $7,000. I would say about 20% of the things I use on camera have been sent to me, but I do make a lot of beauty purchases myself." 
He added: "Makeup is just makeup, but I do not do everything I do just to look pretty. I want to help empower others to do what they love without caring about judgement." 
Deola Adebiyi, OmogeMuRa
Adebiyi, the blogger behind OmogeMuRa, an online fashion and beauty magazine based in Lagos, Nigeria, chose to start posting photos as a way to express herself and her love for makeup. 
Adebiyi also has a nine-to-five job to keep up with, but she spends a lot of her free time creating content. "If it's a beauty tutorial, it takes me about an hour to prepare and decide on the look to film and then about another two to three hours to film it," she said. "Then it takes me about five to six hours to edit everything. I film on weekends and edit in the evenings after work. Vlogs are different as it's footage from different days so it takes much longer to edit and film." 
She spends between $50 and $70 a month, or about $600 to $840 per year. 
Becca Lammin
Lammin, who boasts over 75,000 followers on YouTube, became a vlogger about two and a half years ago.  
"I spend around £200 (about $264) a month on makeup," she said in an interview. Multiple that by 12, and she would dish out around $3,168 on beauty products a year.  
"It could take me a couple of days to make a YouTube video depending on what I'm filming," she adds. 
Margo, the blogger behind Beauty and the Beat, strategically spends time shooting and editing her pictures and videos. 
"You have to consider staging pictures of products; picking the right location to shoot; swatching 
Margo estimates that she purchases about 50 percent of the products she reviews. She would say her closet full of beauty products and tools is worth between $6,000 and $7,000. 
"I always say that I want to share glamspiration with others and this is my way to do it," she said. "If one person says one of my reviews or tutorials helped them, then my job is done." 
Jake-Jamie, who has 14,000 subscribers on YouTube, started vlogging after struggling to find the perfect products to conceal his acne. 
"The blog had been created from my own personal frustrations, I thought to myself surely there must be other people out there who are going through the same struggles," he said. 
It's safe to say running a blog costs him a lot of time. "It can be a really long process, which usually goes something like this: sift/pick products, research, photograph, test over a seven-day period (longer for skincare), plan the layout of the blog/youtube video, write/film, edit content, post," he said. "I spend every spare waking second I get dedicated to the blog! I'll often find myself at my desk, editing until the early hours of the morning. Being a blogger takes dedication, patience and continued commitment to your platforms."
Jake-Jamie receives most of his beauty products for free now. "Even when I need to top up on favorite products, a lot of brands will still send these out complimentary because they want you to keep using those products in future posts, too," he said. "I would say I probably receive roughly £500 (about $660) worth of complimentary beauty products a month — so around £6,000 (about $7,940) per year."
But Jake-Jamie has also invested in an at-home studio. "When I first started out, I used to record and edit all of my videos on an iPad," he explained. "As time has gone by, and the blog has grown, I have been able to invest bit by bit and upgrade my equipment. I now have a studio that has been created in my house dedicated to the blog with lighting, the best cameras, a Mac computer, a green screen." 
Besides the obvious similarity that it costs all of these bloggers a heck ton of money and time, they also seem to be filled with absolutely no regrets. So if beauty is something you are passionate about, and you're willing to give up a lot for it, starting a blog just might be worth it. 
"The feeling of knowing that you are helping so many people is one that makes me feel very warm inside," Jake-Jamie said. "I do it because I love it, I am passionate about the industry and most importantly because I want to do it."