This woman's stunning wedding dress is a defiant statement for plus-size women everywhere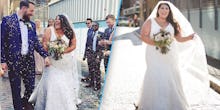 In addition to posting breathtaking photos of the lace trumpet gown she wore to her recent nuptials, style blogger Callie Thorpe chose to use her Instagram to offer up an empowering message and address the trepidations she — and many other women —  have about being a plus-size woman on her wedding day.
"When I put on my wedding dress, I knew it was the one," she wrote last week. "The gentle sparkle of the dress with the lace detail, the champagne color that perfectly complemented my olive skin, the way it fell over my hips and followed the curves of my figure. It was just magical."
She continued: "I never dreamed I would wear a dress like this, I used to think that I would never get married until I was thin. There were even times I doubted myself, thinking I would be too self conscious to wear it. But as you grow older and you surround yourself with the right people, you begin to realize that what you look like doesn't really matter to those that love you."
Thorpe chose to offer up a bit of advice to all those who might have similar hesitations. 
"I would like to say this one thing to brides-to-be everywhere — plus-size or not, do not feel you have to change yourself or your size to be happy on your wedding day. Your partner loves you for who you are, not just what you look like," she wrote. "You are deserving of happiness no matter what your size, and you will still be the most beautiful person in the room next to your love, because you will be glowing with the love you have for each other. The happy ending is for everyone, so please, please let yourself have it." 
Although recently Stone Fox Bride teamed up with plus-size retailer Eloquii and ModCloth launched a bridal line for women of all sizes, plus-size bridal has, and still is, an underserved sector of the industry. David's Bridal, the company that made Thorpe's dress, used a plus-size model in a campaign in December, but a majority of bridal advertorials and runway shows still strictly feature thin women. 
And that's just one of the reasons Thorpe had hesitations before her wedding regarding her size, and why so many women have now commented on this image with praise. 
"Amazing words. I'm getting married next weekend and this has given me confidence to be proud of how I look," one woman wrote. "Wish I had someone to tell me that when I got married 17 years ago. It seemed to be a thing back then that the larger the bride the larger the dress. So happy you got to wear a dress that you felt beautiful in," commented another. 
Yet another: "Beautiful bride, beautiful words that I'm just about beginning to embrace myself after battling with low low self image for years." 
Or, as many others have put it, #BrideGoals.