Philando Castile scholarship planned for Minnesota high school where he was beloved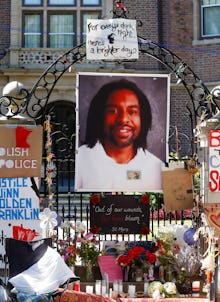 A good man, a good student and an affable mentor to children: That's the way family and friends have remembered Philando Castile, the 32-year-old fatally shot in July by a Minnesota police officer. With his legacy in mind, alumni of the high school Castile attended are establishing a scholarship in his honor.
The St. Paul Central High School Foundation will hold a fundraiser for the scholarship Sunday in St. Paul, Minnesota. Organizers said they want to support underprivileged students looking to pursue careers in education or child development, the Star Tribune reported. They expect up to 1,000 people to attend the event, which has been organized with the blessing of Castile's family.
Up until his death, Castile was an employee of St. Paul Public Schools. As a food service worker at J.J. Hill Montessori Magnet School, he served meals to more than 400 students, twice a day.
"[Castile] worked at a school, didn't have his education license, but he definitely affected children, so we'd like [the scholarship recipient] to work on what he was: helping students," Adrian Perryman, a 2003 St. Paul Central High alum, told the Star Tribune.
The success of the fundraiser will determine if the scholarship can be awarded annually. The St. Paul school year resumes on Sept. 6, which will mark two months to the day since Castile was killed during a traffic stop in Falcon Heights, Minnesota.
Castile became the year's 115th known black man killed by U.S. police on July 6. The aftermath of the shooting was livestreamed on Facebook by Castile's girlfriend; the video helped spark weeks of protest in Minnesota and across the country.
Protesters have called for charges against St. Anthony Officer Jeronimo Yanez, who reportedly shot Castile as the man reached for identification. Rather than remembering how he died, so many who knew Castile have expressed memories of how he lived.
"He smiled at everybody who came in the building," Joan Edman, Castile's co-worker at J.J. Hill, told the Star Tribune in July. "I remember him saying, 'I just want everybody here to be happy.' He wanted the cafeteria to be a happy place. It was a huge goal, and not an easy one, and he did it."