Yaaass queen: The inspiring reason why so many women are getting crown tattoos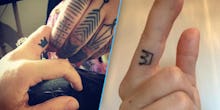 A number of women across the world have been getting miniature crown tattoos to remind themselves that they are strong queens and deserve to be treated like one.
The trend started with Constance Hall, a body-positive mommy blogger with over 100,000 followers on Instagram who she often refers to as queens. She also runs a blog called Queens of Constance and has a book titled Like a Queen. Sensing a theme?
One supporter in particular felt inspired enough to get a tattoo, and it all escalated from there. 
"One of our Queens got this tattoo to remind herself that she is a fucking Queen even though she's struggling to conceive at the moment and on all sorts of hormone drugs," Hall wrote on Instagram a few weeks back. "Still a Queen. Always a Queen. I wish her a world of luck and am inspired and thinking that maybe we all need crown tats?" 
Later that day she answered her own question and decided to do it. "This just happened," she wrote. "Being a Queen is not only a commitment to support the shit out of other Queens but also one to yourself... To recognize your inner rad bitch and never stop loving her."
"This is seriously happening," she wrote a few days later after people began to send her images of their own tattoos. 
On Thursday, she shared an image showing just how many people have since gone out and gotten permanently inked. "Our crown tattoo game is strong," she wrote. "Nobody fucks with Queens."
One women even shared her own personal story, writing, "I got this tattoo today to remind myself that all the times I'm a mess, all the times I'm an emotional wreck, all the times I hold my head in my hands wondering why I'm such a fuck up of a person.
"That in fact I am a queen, a woman that has been dented, a woman that has faced hardship a woman that has been to the lowest of the low and a woman that is still fighting. Fighting for herself, her child and their happiness. To all the queens out there keep going, you can do it, never underestimate your strength."
Many others have commented on Hall's photos with similar messages. "I've decided I'm going to get one to remind myself when I'm having a dark moment dealing with the after effects — the after shocks I call them — of a 12-year domestic violence relationship," one wrote. 
And another: "Going [through] a hard time at the moment and you seem to remind me that it's ok, and everything will be fine! Think this will be my next tattoo." 
Others have simply written that their tattoo appointments have been booked. It's safe to say that Ilana Wexler would approve.