33 mini beauty products that you can easily fit in your carry-on luggage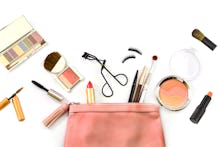 One of the worst parts of heading out on any vacation is accepting that you just might have to make some sacrifices and, deep breaths, leave home some of your trusted beauty products. Not only will the items likely lug down your baggage, and therefore, arm. But, if you decide to go carry-on only, you'll be stopped by airport security even before you reach your gate. 
You can take the worry down to a minimum because, as it turns out, many of your favorite brands make their best-selling products in TSA-approved form, or, equal to or less than 3.4 ounces. 
Some people might be able to rely on the shampoo, conditioner and soap that a lot of hotels provide, but you don't see these resorts offering up mascara, foundation and/or your go-to moisturizer. To help ease the stress that comes with any trip, Mic decided to round up 33 mini beauty products that'll last you all vacation long. 
Hair
In addition to shampoo and conditioner, try a dry shampoo if you plan on not being able to wash your hair as often as you'd want to. If you often curl your hair or want it to stay put, especially in humid temperatures, pack hairspray. A wave spray, leave-in conditioner or oil spray are good options if you're going somewhere tropical or warm. 
Shampoo
TREsemme moisture rich shampoo, $1.69; Redken frizz dismiss shampoo, $6.50; Living Proof perfect hair day shampoo, $10
Conditioner
OGX thick and full conditioner, $2.99; Aveda smooth infusion conditioner, $6.50; R+Co thickening conditioner, $12
Dry Shampoo, Texture spray and Hairspray
Batiste dry shampoo in Blush, $3.99; Sexy Hair hairspray, $7; Bumble and Bumble surf infusion, $16
Skincare
Even if you don't have an elaborate skincare routine, as say, Kim Kardashian West, there are some basic products that are good to have with you in case of either a) breakouts or b) dry skin. Sunscreen is a must-have if you plan on being in the sun for long periods of time, even if you aren't going somewhere tropical. 
Moisturizers
Clinique dramatically different moisturizing lotion, $5; Mario Badescu oil free moisturizer, $12; Josie Maran pure argan milk, $20
Makeup remover
Neutrogena makeup remover towelettes, $2.24; Boscia makeup-breakup cool cleansing oil, $10; Lancôme 'bi-facil' double-action eye makeup remover, $15
Acne treatment
Neutrogena on-the-spot acne treatment, $6.99; Murad acne complex clarifying cleanser, $9; Clinique acne solutions emergency gel-lotion, $17.50
Sunscreen
Neutrogena beach defense sunscreen, $1.99; Tarte tarteguard sunscreen, $12; Fresh sugar sport sunscreen, $25
Makeup
Although some makeup, like eyeshadow, lipsticks and powders, do not need to fit the TSA size restrictions, you still might want to opt for travel-sized versions of your everyday products to make space within your bag. Finding a quality, miniature eyeshadow palette isn't easy, but many brands like MAC and Nyx make single shadows. And in addition to the below items, there are also tiny bronzers primers, powder blushes and setting sprays.   
Eyes
Too Faced better than sex mascara, $12; Benefit They're Real! liner, $12; Urban Decay eyeshadow primer, $12
Face
Urban Decay naked skin concealer, $12; Stowaway Cosmetics Cheek & Lip Rouge, $15; bareMinerals bareSkin serum foundation, $18
Lips
MAC lipglass, $10; Milk mini lip color, $12; Drunk Elephant Lippe balm, $22
Accessories
Most beauty tools, like makeup brushes, combs, mirrors and hair straighteners come in travel-sized versions. This way, you'll be able to pack that extra pair of shoes or jacket that you would've had to leave out otherwise.
Sephora collection detangling comb $6; Tweezerman mini slant tweezer, 15; beauty blender micro.mini, 18
If you're looking to purchase a specific product, or want to test out a few minis before buying a full-size products, most drugstores and department stores, and makeup retailers, like Sephora, Ulta and MAC, have travel sections in store and/or online. 
Because, after all, there's nothing cuter than a mini beauty product.  Happy packing!