Forget your thirst for Neville Longbottom, Viktor Krum is all grown-up and tatted AF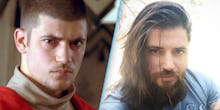 The internet was quite riled up when Matthew Lewis, the actor who played young wizard Neville Longbottom in the Harry Potter series, appeared in his undies during a photo shoot for the cover of Attitude magazine in May 2015. Even J.K. Rowling tweeted "Warn me next time, for God's sake." 
We hope actor Stan Yanevski, who played Viktor Krum, sent a recent selfie over to the author because you'd hardly recognize the former Durmstrang Quidditch player who, within the past 11 years, grew out his hair and beard and covered his body up with some ink. 
In other words, with an outdoorsy Indiana Jones meets Brooklyn dad aesthetic, he is now a total, certifiable hunk. 
It appears that Yanevski, who boasts a healthy 36,000 followers on Instagram, has stopped acting for now. But he'll never forget the time he spent competing in the Quidditch World Cup. Just last week he captioned a photo with "#Potterhead." 
Harry Potter fanatics have since taken to his Instagram to comment on Hermione Granger's former love's appearance. "Dear lord you look so much better here than on hp," one wrote. "That moment when your childhood crush is your crush again after 10 years," said another. Yet another: "10 points to Durmstrang." 
Then there are those who so simply commented, "Krum Krum Krum Krum" and "Hi Viktor." 
We wonder if Granger would approve of Yanevski's rugged new look.