With the Voter Protection Act gutted, civil rights groups are battling voter suppression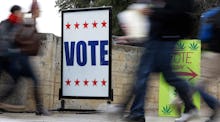 In March, Erika Wilson stood atop a small hill at North Carolina Central University, on the day of the state's presidential primary. She and another volunteer wore T-shirts with the words "election protection" on one side, and the number to a voter hotline on the other.
With the school mostly deserted for spring break, Wilson determined the hill was the best perch from which to tell voters that local election officials had, without much notice, moved their polling station from the student union to the law school.
"I'm pretty confident that a lot of people walked away [from the student union without voting]," Wilson, a law professor at the University of North Carolina at Chapel Hill, said in an interview. "Little things can deter people and make them say, 'Forget it.'"
"I better get in here and vote, before they put us back in slavery."
Wilson is part of a coalition of thousands working with the Lawyers' Committee for Civil Rights Under Law to protect all voters' right to equal participation in the democracy. And she's working in North Carolina, a state with a history of voter intimidation and racism.
In many ways, election observers are a first line of defense against lingering Jim Crow-era voter suppression tactics that date back to the end of slavery. Black voters are still especially vulnerable to strict ID requirements at the polls, reductions in early voting periods and onerous voter registration deadlines, experts say. Election observers have said these tactics increase fears among minority and elderly voters that someone is trying to take away their right to vote.
Wilson, who is black and teaches about the intersection of race and the law, remembered one 20-year-old black voter remarking to her, as he walked into a campus polling station to vote on primary day: "I better get in here and vote, before they put us back in slavery."
That might sound like hyperbole. But that sentiment has been echoed among voting rights advocates, ever since the U.S. Supreme Court gutted the Voting Rights Act in 2013. The VRA, enacted in 1965 to prohibit racial discrimination in electoral laws, no longer includes federal oversight needed to stop discrimination before it happens.
But without a fully functioning VRA protecting voters from state-level discrimination, some advocates said they don't believe there will be enough eyes watching the polls in November — even with experienced election observers like Wilson on the ground.
That's why on Aug. 20, the Leadership Conference on Civil and Human Rights, a Washington, D.C.-based coalition of more than 200 organizations, formally requested a European election protection task force to overhaul its services for the upcoming Election Day.
Through the Leadership Conference, voting rights advocates sent a letter to the Organization for Security and Co-operation in Europe, asking it to "greatly expand its election monitoring mission" this fall. The OSCE's Office for Democratic Institutions and Human Rights has previously observed or supported elections in the U.S., as well as Afghanistan, Bosnia and Russia.
"A confluence of factors has made the right to vote more vulnerable to racial discrimination than at any time in recent history," reads the Leadership Conference's letter to the OSCE. "The need for additional election observers is paramount."
Election observers are a band-aid, not a solution, for voter discrimination. Legal challenges to state voting laws, either filed by the U.S. Department of Justice or by a civil rights coalition, can take more than a year to resolve in court. In a few cases, the litigation has been too late to stop the disenfranchisement of thousands of voters in U.S. elections, Leadership Conference spokesperson Scott Simpson said in an interview.
"This [letter] is not a solution, but that's all we have left" with fewer than 75 days remaining before the Nov. 8 election, Simpson said.
Whether they're working on behalf of a political party, a candidate's campaign or a nonpartisan group, election observers have presences at polling stations chiefly to catch voting irregularities. Observers are generally restricted to the electioneering boundaries set by local election officials, Wilson, the North Carolina election protection volunteer, said. The boundaries typically give voters a buffer between an entrance to the polling booth and campaigners, exit pollsters and election observers standing outside.
The observers can also assist voters in finding poll workers to answer questions about casting a ballot and ID requirements. During the North Carolina primary, Wilson said she had to assist a 99-year-old black woman who had requested curbside voting, a service for voters whose age or physical disability makes some polling locations less accessible.
The woman was concerned about a 2013 North Carolina election law requiring strict forms of ID for access to the polls, Wilson said. Thinking she was a poll worker, the woman waved her ID at Wilson from the passenger seat of her car. "I can vote. I can prove it," the woman told Wilson.
"Getting them to stay [and vote] is a big part of it," Wilson said. "It's about making them feel like their vote is going to count and that people aren't trying to stop them from voting."
Attempts to roll back protections for people of color have been a constant concern among activists, despite the federal civil and voting rights legislation passed during the 1960s. That is why the Supreme Court's ruling on the VRA was so devastating for voting rights advocates.
In Shelby County v. Holder, the court got rid of Section 5 of the VRA requiring states with a history of discrimination to get pre-clearance before changing election laws. As a result, discriminatory changes to election law have been on the uptick and the federal government's ability to catch voter suppression before it happens is severely handicapped.
The year before the Shelby County decision, the Department of Justice, under Section 5, had received 18,146 requests for pre-clearance review of voting changes, according to a Leadership Conference Education Fund report released in June. But now, without Section 5, "no one knows how many changes are taking place and how many minority communities may be affected by discrimination," the report states.
In recent weeks, federal courts have struck down voting laws in five states. Judges found that lawmakers in Wisconsin, Kansas, Texas, Michigan and North Carolina had enacted discriminatory election laws, including some that had intentionally targeted black and other minority voters. But the "voter suppression earthquake," as one civil rights activist put it, didn't solve problems everywhere.
Meanwhile, Attorney General Loretta Lynch confirmed in July that the DOJ's capacity to dispatch federal election observers has been diminished by the Shelby County decision. "Unfortunately, our use of observers is largely tied to the pre-clearance coverage formula that the Supreme Court found to be unconstitutional in Shelby County and so our ability to deploy them has been severely curtailed," Lynch said at the time.
 "In general, there is a sentiment that discrimination is a thing of the past."
Catching voter suppression at the polls is too late, Kristen Clarke, president and executive director of the Lawyers' Committee, said in a phone interview. The organization oversees the nation's largest nonpartisan voter protection coalition, with 24 staff members working specifically on election protection and a volunteer recruitment goal of up 5,000 this year, a committee spokeswoman said.
"This is a moment in which we must be vigilant," Clarke said. "Some of the most intense suppression efforts are happening at the local level."
Voting rights advocates said they can't let their guards down, especially not after Republican presidential candidate Donald Trump twice implied that his supporters should intimidate voters in largely minority districts, if they suspect voter fraud. Trump on Monday night encouraged his supporters in Akron, Ohio, to "go out and watch" the polls on Election Day.
"And when I say 'watch,' you know what I'm talking about, right?" Trump added.
The Leadership Conference's letter to the OSCE points to rhetoric like that of Trump as a point of special concern. "This harkens back to a dark period in our nation's history, when aggressive tactics were used to intimidate minority voters," Clarke said.
The OSCE did not immediately respond to an email request for comment about the Leadership Conference letter on Tuesday. In an OSCE needs assessment report released in June, the group based its plan to deploy 100 long-term electoral process observers and 400 short-term Election Day observers on the belief that the "DOJ intends to deploy federal monitors to follow states' compliance with federal legislation."
If the group doesn't send more observers, it could result in a post-election assessment that is rosier than reality, advocates have said. "When people envision [voter] discrimination, they picture water hoses and police dogs being turned on black people — in general there is a sentiment that discrimination is a thing of the past," Wilson, who will again serve as an election observer in November, said.
Knowing that voter discrimination looms large this fall, she added: "My desire is to do my part to make sure there are not any inequalities."