Frank Ocean's 'Blonde' release was hardly covered in gay magazines — why?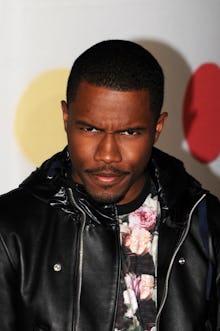 Over the past four days, there has been no bigger story in the arts space than Frank Ocean. Thursday night, the elusive artist released a meandering, yet fantastic visual album Endless. An even longer masterpiece Blonde came Saturday, along with a 360-page print publication titled Boys Don't Cry distributed at pop up shops in four major international cities.
However, reading many major gay publications, you wouldn't have any idea that one of the most visible, queer POC artist of our generation — an artist who by many accounts completely changed the game for queer celebrities — had returned. 
The U.K.'s Gay Times didn't cover any Ocean's recent projects on their release, Out, the Advocate, Towleroad and Pink News did so only intermittently and without much of a sense of urgency. Out ran an article on Endless Friday morning after the drop, the Advocate included it as part of a "7 Things That Are Everything This Week," though Gay Times, which has a music section on its site, hadn't posted a single article on any Ocean-related content until Monday morning. It eventually came in the form of a short stub about a poem from Ocean's Boys Don't Cry that was gaining coverage across the web. Many fans couldn't help but see this sporadic coverage as yet one more piece of evidence in the ongoing conversation surrounding #GayMediaSoWhite. 
Twitter user Philip Van De Kamp noticed the seemingly obvious gaffes of each major queer publication, tweeting Sunday morning, "Hi Grammy-winning LGBT POC, Frank Ocean released two albums. Whenever you have time after brunch," tagging each site's social media profiles. 
Users quickly hopped onto the thread to offer that these publications might not have had editorial staff available to cover the releases throughout the weekend. However, that doesn't explain why the Ocean's releases weren't covered Thursday and Friday by certain publications.
Gay Times found plenty of time on Thursday to post about Lady Gaga's new single, which isn't due until September. On Friday, the site also published an article announcing Words & Noises' EP release, a duo fronted by two white artists. Out published their first piece on Blonde, a track-by-track breakdown, Monday only after their oversight began to make waves online.
Many fans seemed to think that such a tidal wave of content from one of the most prolific queer artists would be a queer publication's bread and butter. Ocean is one of the few mainstream artists comfortable using male pronouns throughout his art, a choice he explained in a groundbreaking 2012 "coming out" Tumblr post. Media outlets across the globe covered the announcement ad nauseam, encouraging artists and executives across the industry to face issues of tolerance and inclusion of LGBTQ artists head on. Ocean arguably paved the way for artists like Young Thug to admit he doesn't believe in genders and for rappers like Vic Mensa to proudly support LGBTQ communities. 
With Blonde, there are so many queer themes for major LGBTQ outlets to unpack, from Ocean's candid "Good Guys," an ode to a man Ocean met for a blind date in a New York City gay bar, to the gender fluid style the artist employs in his "Nikes" video, singing while decked out in glitter, eyeliner and a Balmain outfit.
Many readers assume these outlets failed to cover Ocean's releases because he's a queer person of color. The oversight comes at a time when the queer community remains in a heated conversation surrounding gay media's whitewashing of its content and magazine covers. The hashtag #GayMediaSoWhite has exposed this issue month after month throughout 2016, without much of a response from most outlets. 
Other queer sites did manage to cover bits and pieces of Ocean's releases: Monday, Towleroad published two posts on Ocean: a breaking news post about the release of Endless, as well as a post on his "Boyfriend" poem from Boys Don't Cry. Pink News managed to write a similar breaking post on Ocean's Thursday release of Endless, without any follow up on any of his several other groundbreaking projects. Monday morning, the site published a breaking news story about a queer POC Broadway dancer who admitted to murdering his boyfriend in a Facebook post. Still there's not a single story on Ocean's latest album Blonde. 
Without these publications help, the Grammy-winning, genre-bending, progressive-thinking queer artist has still managed to top iTunes charts and drive conversations on publications of all sizes and concentrations. Perhaps the major gay magazines will soon realize what was missed.
Mic reached out to Gay Times, Advocate Magazine, Out Magazine and Towleroad for comment and will update if we hear back.
Pink News responded to our request for comment, pointing to two articles discussing Ocean's imminent releases prior to Thursday night — one from early July and another on Aug. 12. "PinkNews has extensively covered Frank Ocean's latest releases," U.K. editor Nick Duffy wrote in an email. "Unfortunately, we will never be able to write about everything within this ever-expanding remit, but we do our best to make sure our coverage reflects the breadth and diversity of LGBT culture while remaining conscious of our global audience's interests."
Aug. 23, 2016, 2:03 p.m.: Mic received a response from Andy Towle of Towleroad, who pointed out articles the publication has run in the past.
"We try to do the best work we can here," Towle writes. "Obviously this is not just about Frank Ocean. We work to consciously address issues of representation and have for years. Not getting it better or right hurts our credibility and we're always open to suggestions, corrections, and ideas from our readers and community."
Aug. 24, 2016, 7:53 a.m. Mic has received a response from Lucas Grindley, editorial director and senior vice president for Here Media, which runs the Advocate and Out. 
He pointed out that Ocean's Endless was included as the second item in a "7 Things That Are Everything This Week" list that ran Friday in the Advocate, and an article on Out was published Friday morning following Ocean's Endless release. We have updated the language of the introduction to clarify this point.