Beauty bloggers launch #willitlookgoodonmetho to show lipstick on dual skin tones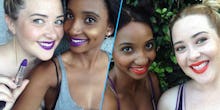 To combat all of the beauty advertisements and campaigns that often strictly feature fair-skinned women, actresses Michelle Meredith and Piaget Ventus have launched an Instagram, named "willitlookgoodonmetho," where they show what an assortment of shades of lipsticks look like on their two different skin tones. 
"Piaget is the only person I know who loves lipstick more than I do," Meredith explained in an interview. "Sometimes we'd swap and I'd try something on and be astounded by how different it would look on me, and vice versa." 
"We both follow all these amazing makeup pages that show new brands and colors," Ventus added, "But most of those beauty bloggers don't look like me, which makes buying a $30 lipstick based on their recommendation kind of risky." 
So the duo combined their love for lipstick and formed an Instagram page that has since amassed over 5,000 followers. 
In addition to the images, Ventus and Meredith post what shade and brand the lipstick is and any comments they had about that specific product. 
"We want to make lipstick relatable, attainable and represent a wider and often ignored group of people," said Ventus. "We want to do the homework for you so that you can just have fun and play."
Meredith added: "Lipstick is a great equalizer. Anyone can wear it, no matter your skin tone or gender or makeup skill level."
Since its launch six weeks ago, many have commented on the ladies' photos in praise of the two for their "brilliant idea":  "This account is soooo good I love the concept," one user wrote; "Such a great idea for a make up page, this is so useful," said another; "This page is a life saver," said yet another. 
Beauty blogger Ofunne Amaka had a similar idea in March when she launched an Instagram account and app — Cocoa Swatches — to show how different products look on dark skin. 
"On other beauty blogs, I would often try to find pictures of a girl that look like me but after a few times it just went horribly wrong," Amaka said at the time. "And I thought I really wish I didn't have to do this guesstimate thing where you buy a shade of lipstick and have no real idea how it's going to look for you." 
Meredith and Ventus are proving that all it takes is a lipstick, friend and social media account to help women that are often failed or considered an "afterthought" by top beauty brands. 
"We want represent the everyday person, we have started with ourselves and plan on expanding to represent as many complexions as possible," said Ventus.