'Happy Birthday Philando Castile' film shows family, friends grappling with loss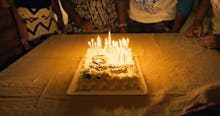 Close friends called Philando Castile, the 32-year-old black man who died in a police shooting in July, by his nickname: "Cheddar Phil."
So when news spread that Castile's shooting death had been livestreamed on Facebook, some of his friends didn't believe newscasters were talking about their Cheddar Phil. Castile, a food service worker for a Minnesota public school district, was not known as a troublemaker.
"One thing I knew about him, that I soaked from him, was 'play it by the books,'" a longtime friend, identified as "Wax," says in a newly released short film documenting the days that followed Castile's death. "I never thought I'd see [his] face on any T-shirts. I never seen it coming."
"Happy Birthday Philando Castile," filmed on July 16, the day Castile would have turned 33, captures his friends and community holding public and private celebrations. But Mohammad Gorjestani, the film's director, says it's also meant to humanize those who mourn him deeply, particularly as news cameras are no longer clamoring for gut-wrenching interviews.
"These are very thoughtful people that this has happened to," Gorjestani told Mic in a phone interview. "For me, the root of all this is these families, these communities and the victims."
Through their film company, Even/Odd, Gorjestani and film producer Malcolm Pullinger partnered with the California-based Campaign for Black Male Achievement and other backers, to give a "high production" treatment to the project. This treatment draws a contrast to the body camera footage and smartphone video that dominate mainstream news coverage, Gorjestani said.
St. Anthony, Minnesota, police officer Jeronimo Yanez fatally shot Castile on July 6, after the officer stopped him for a busted taillight. Soon after the shooting, Castile's girlfriend began livestreaming through the Facebook app on her smartphone. She informed viewers that Castile had been shot as he reached for identification and permit to carry a concealed weapon. The graphic images intensified a week of protests nationwide over exchanges of violence between police and African-Americans.
WATCH: 'Mothers of the Revolution' film explores humanity of women touched by violence
The eight-minute film opens with the St. Paul community gathering to pray and build a sense of unity between black residents and police officers — a counter-narrative to the anger seen in some news reports. The film closes with Castile's friends standing around a birthday cake bearing a design of Castile's face and blowing out candles.
Gorjestani said timing the film to Castile's birthday was important thematically. "A birthday is supposed to represent an advancement in life," the director said. "In this case, it's the exact opposite." The theme is effective because a person's birthday is a platform for empathy, Gorjestani added.
The film about Castile isn't the first time that Gorjestani and his producing partners have used the birthday theme. in 2015, Even/Odd filmed the Rev. Wanda Johnson as she celebrated the birthday of her son, Oscar Grant, who was fatally shot in 2009 by a public transit police officer in Oakland, California. 
Even/Odd has also finished a "happy birthday" film featuring Gwendolyn Woods, the mother of Mario Woods, who was killed by San Francisco police officers in December 2015. The "happy birthday project" has evolved into something of a series, Gorjestani said.
"My initial instinct is that I think these will live better if they can be watched as an episodic web series," he said. "The nuances of each story are what makes it different" from a feature length documentary.