This mom's viral Facebook post proves sometimes we even body shame ourselves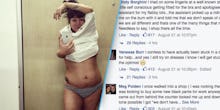 Popular mommy blogger Constance Hall was at first insulted when a salesperson told her that she should be shopping for a bigger size. But Hall quickly realized that she was actually shaming her own body by believing she needed to be able to fit into a size 6.
"Went shopping for a new dress, was happily browsing the racks when the shop assistant says, 'Sorry darling those racks are size 6s and 8s only, the other racks will be better for you,'" Hall wrote in a Facebook post that has been liked over 80,000 times. "Hiding my offense I replied, 'That's cool. I AM a size 6.'"
She continued: "And that's when we shared one of those awkward moments, the ones where she knows I'm lying, I know that she knows that I'm lying, she knows that I know that she knows that I'm lying... And I grabbed a size 6 dress to try on.." 
And, well, it did not fit. 
"Feeling under enthused with the unsurprising results I returned from the change room and told her that the colour did nothing for me," Hall wrote. "She responded with, 'Wow, you are one of those beautiful women that I would think suits every color.' Hmmmmm. It would appear that she is not the arsehole.... I am."
Hall realized that she shouldn't be insulted by a number on a tag. "She wasn't body shaming my delicious #mummob she was being practical, it was ME who body shamed myself by taking offense!!!!!!" she wrote. 
"It would appear that she is not the arsehole.... I am."
Her body-positive post has over 2,000 comments and many women have shared their own photos and stories. 
"I don't care about sizes anymore. I feel beautiful and accept my baby body. I find clothes that make me feel comfortable and beautiful in," one person wrote. "Today my husband took me dress shopping. I told him what size I thought I was and he brought me different dresses in a range of sizes. He looked at me with a smile and said don't look at the number and put it on.  He's right the number doesn't matter because I left the store with 4 beautiful dresses that are size 12, 14 and a 16," said another.
Yet another: "Ive gone from a 6 to a 10 and I was feeling sooo depressed till I slapped myself and said who cares! I got 2 beautiful kids!" 
And the comments on Instagram, where Hall also posted the image for her 108,000 followers, are just as supportive. "Your are such a boss for sharing this!! Thank you," one wrote. Another: "I felt really yucky about myself but I see your picture and just see awesomeness!!! Thanks for making me feel good about myself." 
Hall's message is especially relatable, as time and time again, we are reminded how inconsistent sizing is. "NO dress sizes are BETTER then any OTHER," Hall wrote. "It's YOUR BODY. You only have ONE."