Newark police chased 10-year-old Legend Preston because they thought he was an adult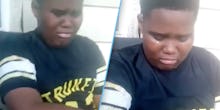 Ten-year-old Legend Preston's mother said on Facebook that her "fun loving child is forever changed" after being chased by armed police who reportedly mistook him for an adult robbery suspect.
Preston was playing basketball near his home in Newark, New Jersey, when his ball rolled into the street, reported WABC on Monday. He ran to retrieve it, and that's when he saw the police officers. 
"Some police started coming this way with guns pointed at me, and then I ran into the backyard," Legend told WABC.
Legend thought the police were coming after him "because they thought that I rolled the ball into the street on purpose." The police allegedly thought he was a suspect in an armed robbery and chased him into a nearby alley with their guns out.
Witnesses had to step in and tell the officers that the "suspect" they had cornered was actually a terrified child. "He's only 10 years old, how you all chasing him? He's only a kid. I'm like, 'that's messed up'," witness Jackie Kelly told WABC.
Preston's mother, Patisha Preston, posted a video on Facebook of her tearful son, who indicates that he feels "nervous" because "they tried to shoot me."
In the description of the video, Preston's mother said that neighbors "made a human shield to protect him" from police. But the effects have been lasting — "now he won't stay off his father's hip. Scared for his father to leave for work or play outside."
Preston's story is eerily similar to so many other cases of police "mistaking" young black boys as threats — except that he escaped with his life. The Ohio police officers who shot and killed 12-year-old Tamir Rice while he played in a park in 2014 reportedly thought Rice was 18. 
But according to his mother, Legend Preston was not unharmed by his terrifying experience with the police. "My son is in counseling," she wrote on Facebook, "even scared to go play because it happened right at our house."