This singer issued an expert clapback after a tabloid attempted to body shame her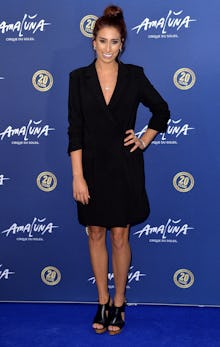 British tabloid the Sun tried — and failed — Sunday to body shame former X Factor UK contestant Stacey Solomon by comparing her breasts to X Factor UK alum Louisa Johnson's.
Solomon's powerful response? "I am just as sexy." 
"X Factor stars show it's a case of sinky pinky and perky with contrasting bikini styles," the article reads. "Stacey, 26 who finished third on the 2009 series of the talent show, seemed to have trouble keeping hers on while on holiday in Ibiza. Meanwhile, last year's winner Louisa, 18, showed how it should be done while on a break in LA." 
The Sun also captioned the image of Solomon with, "Top flop... former X Factor singer Stacey gets that sinking feeling."
While this is unfortunately a narrative that tabloids so often weave, Solomon voiced a body-positive message to her 180,000 Instagram followers. "I LOVE MY BODY @TheSun," she wrote. "My boobs are a result of being pregnant & breast feeding & I love them."
The post has received hundreds of comments with many pointing out that women should not be compared to one another, and praising Solomon for being honest about her post-baby body. 
"My boobs are a result of being pregnant & breast feeding & I love them."
"So many people missing that point and commenting on the fact you shouldn't compare a mothers body to that of a young woman without kids. You shouldn't compare anyone to each other," one person wrote. "You are a fab role model standing up to bullies," said another. 
Yet another: "Well said, boobs that have fed babies and stretch marks are all a result of a miracle. Why must the media present unrealistic ideas to society of how you should look." 
People on Twitter are just as supportive. 
By choosing not to ignore the unnecessary article, Solomon joins a long list of celebrities including Chrissy Teigen, bloggers Constance Hall and Olivia White, working to remove stigmas and combat the media's obsession with what a mom bod should look like.   
As someone commented on Solomon's Instagram photo, "There's very little that can be done to control how your boobs react to life so just don't worry about it you're gorgeous and guess what, you're more than just a body."