Here's how early voting could impact the 2016 election — and even determine who wins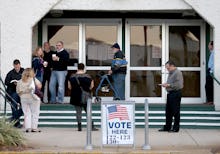 Americans will head to the polls Nov. 8 to elect a new president — but some voters will have cast their ballots well in advance.
Early voting starts Sept. 23 in Minnesota and South Dakota. And in two key battleground states, Iowa begins early voting on Sept. 29 and Ohio on Oct. 12.
Early voting, whether by absentee ballots or in-person polling, has been slowly on the rise in the United States in recent elections. In the 2008 presidential election, 30% of voters used the option of early voting, according to the U.S. Election Project at the University of Florida. In 2012, that percentage rose slightly to 32%.
Eighty-five percent of Democrats and 74% of Republicans say they support early voting, according to a recent Gallup poll.
So how will early voting affect the 2016 election?
First, it's important to look at who votes early.
"There are two types of early voters," Michael McDonald, an associate professor of political science at the University of Florida, said in an interview. "There's the types that are like in Pennsylvania, these are people, voters, that are going to be away from their home, and they just need to vote [via] a mail ballot, that's the only option they have to participate. I tend to call these situational early voters.
"Then there are the behavioral early voters, who have made up their mind, they're ready to cast their ballot and they cast their ballot."
McDonald describes an "ebb and flow" to early voting, and it has advantages and disadvantages for both Republican nominee Donald Trump and Democratic nominee Hillary Clinton.  
"The earliest voters are going to be people who are very hard partisans — they have strong attachments to the parties, they have lots of information about the candidates because they are political junkies, they've been following the election all along and they're ready to cast their vote right now," McDonald said.
"I guarantee you can ask some people who they're going to vote for today and that will not change once we get to Election Day, even if very negative information comes out about their candidate, they will still hold true to their guns and support their candidate. It's just sort of the way that elections work and how people process information. So the earliest voters are going to be people who are hardcore partisans."
Most early votes will be cast after the first presidential debate, scheduled for Sept. 26, and the second debate set for Oct. 9.
But the ebb and flow of early voting changes as Election Day nears.
"Where early voting then becomes important for the campaigns will be later in the cycle," McDonald said. "In some of these key battleground states, that's when we're going to start seeing more people vote who are not as tied to the parties, in states that do have party registration, we'll see the people who are unaffiliated with the party."
"We're going to see their numbers rise, we're going to see young voters rise, we're going to see minority voters rise, especially the Sunday prior to the election," he said, referring to when religious institutions try to help get out the vote in a tradition often called "Souls to the Polls."  
"There is a pattern to this," McDonald said, adding that the most crucial early voting that takes place in the week before the election relies on a good ground game.
Check out this quick guide to which states allow early voting.