MAC Cosmetics continues its long history of diversity with Taraji P. Henson collaboration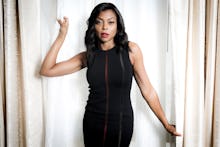 When CoverGirl announced in March an Empire makeup collaboration with four of the show's leading ladies, fans wondered, "Where's Cookie?" Well, here Taraji P. Henson finally is, with a brand-new seven-piece MAC Cosmetics collection set to launch in two weeks.  
"Taraji P. Henson has won the world over with her fearless performances, powerhouse confidence and charismatic spark," a press release reads. "From her flawless skin to the quintessential nude lip and perfectly defined noir eye, her namesake MAC collection is as fierce as Taraji herself." 
Although Henson is known for her bright lips on and off camera, this collection's lipstick, "Strip Me Down," is a beige matte shade. Also included is a powder titled "Taraji Glow," a highlighter named "Highlight the Truth," mascara, eyeliner and face brush. 
In an industry where people of color are often ignored or considered an afterthought, MAC is once again making an effort to cater to those with darker skin tones. 
The brand, which is known for its celebrity and designer collections, has previously collaborated with an assortment of people of color ranging from Rihanna and Nicki Minaj to Mary J. Blige and RuPaul. In March, the brand launched the "Future Forward" campaign, which featured four women of color in the music industry: Tinashe, Halsey, Lion Babe and DeJ Loaf. 
But, when it comes to this brand, diversity stems further than just skin tone. "At MAC, our mantra is all ages, all races, all sexes," James Gager, MAC's senior vice president and group creative director, said to Mic in April. MAC has previously collaborated with plus-size singer Beth Ditto, fashion icon Iris Apfel and socialites Harry and Peter Brant.
"We encourage self-expression, individuality and self-transformations; these are the basic foundations of the brand," Gager said. "Everyone is welcomed into MAC. There are no rules."
The #MACTaraji collection, with prices ranging from $17 to $42, will be available online Sept. 6 and in select MAC stores on Sept. 8.