The aircraft that looks like a giant butt just ate sh*t on its second test flight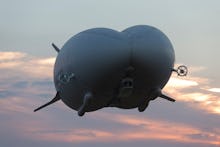 The butt plane made an ass of itself. 
The world's largest aircraft — the Airlander 10, which has gained notoriety for its resemblance to a badonkadonk — was damaged during its second test flight on Wednesday, the BBC reported. 
The 302-foot-long, £25 million plane-helicopter-airship hybrid nosedived to the ground, sustaining damage to its cockpit, but no one was injured. 
"The flight went really well and the only issue was when it landed," a spokesperson said, according to the BBC.
The developer of the aircraft, Hybrid Air Vehicles, said in a Facebook post that it is debriefing the incident and that "all crew are safe and well and there are no injuries." 
A YouTube video shows the sky butt gently nosediving into the ground at its base at Cardington Airfield. You can even hear the person who's recording expressing concern that the Airlander 10 is "going to smash right into the ground." 
And voilà:
The Airlander 10 was originally developed as a "long-endurance surveillance aircraft" for the U.S. government, the Telegraph reported: It will reportedly be able to remain airborne for about five days. This crash follows a successful first test flight on August 17. Both flights will factor into its 200 hours of test flights in total.
The enormous flying keister will live to fly another day.