Kate Upton, tired of being without attention, comes after the Kardashian fam on Snapchat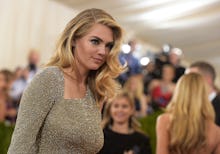 Kate Upton, a former Sports Illustrated swimsuit model and actress with a whopping two movie credits on her resume, was apparently living under a rock for the entire month of July. Either that, or, she's insanely brave and doesn't care about making enemies of a family who can and will cut a bitch.
Because, as made very clear with TaylorSwiftGate, you don't want to mess with any of the Kardashians on Snapchat — or anywhere, really. 
Yet, Upton did just that on Tuesday when she posted a photo to her Snapchat story using the "pretty" filter and captioned it, "I look like a Kardashian, nose job and all."
So, what's the issue with this post? First, Upton herself has previously spoken out about the body-related pressures placed upon women, especially those in the public eye. She also has repeatedly said she likes to be a motivational force and role model in the eyes of young girls. Accusing a celebrity family, or anybody really, of getting nose jobs doesn't really fall under this umbrella. 
Second, Khloé and Kim have publicly denied having this type of plastic surgery. (Not that it would be OK to shame them if they had admitted to doing so.) 
"Everyone says I've had a nose job because my nose is smaller now and I swear I haven't," Khloé said during an episode of her short-lived talkshow Kocktails with Khloé in March.
A few years prior, Kim had told Harper's Bazaar: "Everyone always thinks I've had my nose done or my lips done or just anything to my face like besides Botox, which to me isn't plastic surgery. People always say I've had a nose job and they'll use before and after pictures but the after picture is really taken before." 
Her Snapchat caption might stem from a "feud" that first brewed back in 2013 when Kim's husband, Kanye West, implied that Kim should've been chosen for a Vanity Fair cover over Upton.
"I have a love-hate relationship with the paparazzi, but actually I love them because they are empowering us," he said on Power 105's Breakfast Club radio show. "They are empowering us over Vanity Fair that want to say that Kate Upton is Marilyn Monroe. Kate Upton ain't Marilyn Monroe, Kim is Marilyn Monroe."
Kim, or any member of the Kardashian-Jenner group, has yet to respond to Upton's Snapchat dig. It makes sense considering the Kardashian-Jenner's have multiple apps, reality shows, books, cosmetics and fashion deals and more to keep up with. Oh, and, 317.4 million collective followers on Instagram — but that's nothing. 
Let's just hope Khloe doesn't come for her the way she did for Chloë Grace-Moretz, otherwise this could get ugly.