Ryan Lochte escapes Rio police, last seen heading towards 'Dancing With the Stars'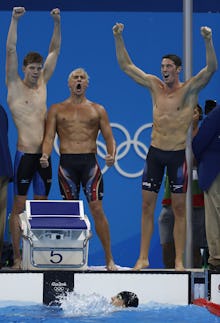 U.S. Olympic swimmer Ryan Lochte, who started a minor international incident at the 2016 Rio Olympics when he exaggerated the circumstances of a "robbery" that appears to have actually involved him and teammates urinating all over and vandalizing a gas station, may soon be competing in ABC's Dancing With the Stars.
According to US Weekly, "multiple sources" tell the magazine Lochte has signed a contract to appear on the show's 23rd season, with one source adding "doing DWTS will be great for Ryan's image. He will be able to show America that he's a good guy who made a mistake."
If true, the rumors would be a remarkable stroke of luck for Lochte, whose image, and possibly future earnings, has suffered greatly following the widely publicized controversy.
Some of the sponsors Lochte lost in the wake of the Olympics incident included clothing line Ralph Lauren, swimsuit manufacturer Speedo, skin-care company Syneron-Candela and Airweave, a mattress firm, according to Mic's Natasha Noman as reported on Monday.
As the Washington Post noted, Dancing With the Stars is an ideal venue for image-challenged celebrities, giving them a chance to get seen "on TV every week in a sparkly costume; [Lochte] could hopefully display an ounce of humility and self-awareness."