Kylie Jenner's new nude Lip Kit proves she might have learned from getting dragged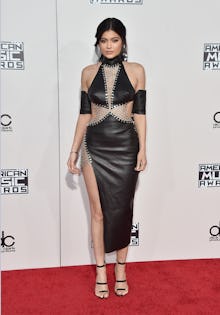 Kylie Jenner has been publicly called out — not once, but at least four times — for appropriating black culture by posing in cornrows and not acknowledging the vast history behind the hairstyle. And while she still might be clueless in this respect, after all she did just wear bright red cornrows two weeks ago, it seems she is trying to be a bit more inclusive, at least when it comes to her cosmetics line. 
On Thursday, the 19-year-old revealed three new Lip Kit shades: Dirty Peach, Brown Sugar and Love Bite. She also released a set of photographs that depict what the kits look like on a range of skin tones. 
But, in addition to asking a diverse group of friends to model the kits, she also specifically created Brown Sugar with people of color in mind. 
"I finally achieved the perfect nude for darker skin tones," she wrote on Instagram. "I love this shade." 
With this release, Jenner has managed to address two struggles that people of color face in regards to the beauty industry. Not only is she showing what shades look like on multiple skin tones, unlike many cosmetic brands, she also is reiterating that "nude" doesn't encompass just light-skinned people. And many fans have taken to Instagram to voice their excitement. 
"Love the way you used a deeper toned model so we can see what it looks like," one wrote. "Finally a perfect nude for my dark self, whoop whoop," said another. Yet another: "Thank you! You now have a new customer." 
And those on Twitter seem just as grateful. 
Now if only Jenner would respond to her fans asking her not to appropriate their culture, like she answered those requesting a bigger range of cosmetics. 
Dirty Peach, Brown Sugar and Love Bite will be released on Friday at 3 p.m. EST on KylieCosmetics.com.