Urban Decay gets itself into steaming hot water with Razor Sharp wrist eyeliner swatches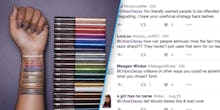 On Tuesday night, beauty brand Urban Decay posted an image of some eyeliner swatches to its social media sites. While at first this might not seem like anything out of the ordinary, the product is called Razor Sharp and the swatches were done on a wrist, causing many to say that the post is referencing self-harm and, therefore, triggering. 
"Read for some Razor Sharp Swatches, UDers?" the brand asked. 
Many flooded the brand's Twitter account asking Urban Decay to take the tweet down. 
And there are similar comments on the Instagram post, with people writing things like, "This is just too much. I don't care what the name of the product is, and how they are promoting it to show the colors. They could have made a beautiful visual on an EYE that shows how razor sharp you can make a winged eyeliner" and "Is this real? Using self harm as a 'joke' to sell a product?" 
On the other side of the argument, people are insisting that this wasn't intentional and that the brand swatches all of its products on a wrist. A few people have even Tweeted that although they have previously self-harmed, they are not offended by the image.
Urban Decay has since responded in a Tweet writing, "We swatch on the inner arm to show texture & shades. We didn't intend to reference self-harm as the product is named Razor Sharp Eyeliner." 
Regardless of the brand's intentions, there probably was a better body part — like, say, the eye — to show the color swatches. And if anyone at all was triggered by it, which apparently some were, it might just be a better idea to delete the image. Or even provide links to resources like To Write Love on Her Arms and S.A.F.E Alternatives. 
As one person on Twitter explained, "Take it down. Whether it was intended or not, perception is everything." 
Mic has reached out to Urban Decay for further comment.