Big Freedia sentenced to three years probation thanks to New Orleans' housing saga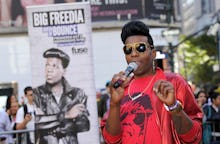 Big Freedia, the queen of New Orleans bounce music, was sentenced to three years probation on Thursday.
The sentencing stems from the singer's guilty plea in March to theft of government funds for receiving housing assistance payments for which she was not legally eligible. According to a Housing and Urban Development investigation, Freedia received payments of $600 per month from the Housing Authority of New Orleans from 2010 to 2014, totaling about $35,000.
But, as Alison Fensterstock wrote at Pitchfork, Freedia's housing troubles can't be separated from the housing crisis that's plagued New Orleans' black residents since Hurricane Katrina leveled the city in 2005. 
"The stakes are high," Fernsterstock wrote, "both for New Orleans residents facing diminished availability of subsidized housing, as well as rent and home prices that have risen much faster than wages since Katrina — and, arguably, for the city's tourism, which leans heavily on musicians who carry the torch for New Orleans' storied cultural heritage."
The United States attorney's office argued that Freedia, whose legal name is Freddie Ross Jr., "derived considerable income through his entertainment and music businesses, including payments for performing concerts, starring in television programs, royalties, and the sale of merchandise," all of which the singer failed to disclose to housing officials. 
Freedia faced a sentence of 10 years in federal prison and a $250,000 fine. She was also ordered to pay back $35,000 to the federal government.
Freedia has not publicly addressed the matter. In a March 1 statement given to the court and reported by the Times-Picayune, the singer admitted that she "knew little" about how to manage the money that accompanied her success. "It was an oversight," she said of the unreported income, "but one that I take full responsibility for."
Like thousands of New Orleans residents, Freedia was displaced by Hurricane Katrina. But in the years since, the openly gay emcee has become arguably the city's most well-known cultural ambassador, bringing twerking to international prominence, dropping a hit album, starring in her own reality television series, and most recently contributing to Beyoncé's smash hit "Formation." But even that level of success hasn't given her the financial footing to live and thrive in a city whose culture she's helping to put on the global map.
"Especially for a cash-based economy, the requirement to predict income is incredibly difficult," Cashauna Hill, the executive director of the Greater New Orleans Fair Housing Center, told Pitchfork. "Performers don't have that kind of set, consistent clear structure."
In Freedia's case, two realities are colliding with one another: the government safety-net programs set up to help poor and working class communities, and the financially uncertain realities of being a touring, independent musician whose fame outweighs their financial stability.
During a March court appearance, Freedia's attorney, Tim Kappel, told reporters that the singer was "humbled and forever endeared to those who have rallied to her side to offer their compassion and kindness.
"This support is a testament to the character of my client and the many meaningful relationships she's cultivated throughout her life."