Lena Dunham and Jemima Kirke star in stunning unretouched lingerie photo series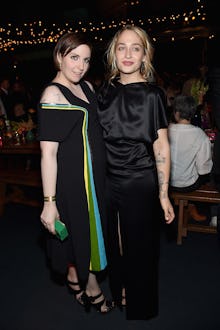 Stick thin models, padded bras and digital alteration are often the three main ingredients that make up a lingerie shoot — none of which can be found in Girls' costars Lena Dunham and Jemima Kirke's new images for New Zealand brand Lonely. 
While seeing Dunham and Kirke bare all might not be anything out of the ordinary (after all, both love baring all on the HBO series), seeing two women completely unretouched in a lingerie campaign is still not an industry norm, making these photos all the more important in showing that there's beauty in imperfection.
"Lonely Girls is our ongoing journal series featuring candid portraits of inspiring women in their own spaces wearing Lonely, their way," the brands website reads. 
The first image released Wednesday features the two actresses posing in a bathroom in New York.
The second, in which Kirke is applying lipstick to Dunham, is an outtake from the shoot. 
Dunham and Kirke are the latest to star in the #LonelyGirlsProject, but definitely not the first. The brand has been photographing women sans alterations for years. 
"Every woman has such a unique story to be told and it's exciting that our Lonely Girl Project can be the conduit for their experiences," the brand's founder Helene Morris told i-D in May 2015. "Sharing our message of empowerment with more women across the globe is very important to us"
Since the images of Dunham and Kirke have been released, many have taken to the brand's Instagram, voicing their support and excitement for the project. 
"We want women to look at our imagery and realize that they don't have to be a certain way to feel beautiful."
"Thank you for what you are doing for women! We're different, we're real, and we don't need photoshop," one wrote. Said another: "This is honestly groundbreaking; well done."
Lonely joins fellow lingerie brands, like Curvy Kate and Aerie, working to change the definition of what society (and Victoria's Secret) has deemed to be sexy. 
"We want women to look at our imagery and realize that they don't have to be a certain way to feel beautiful," Morris said to i-D. "We simply wanted to offer the idea that it's okay to be yourself."