Since 2010, Chicago police officers have been shooting at people every 5 days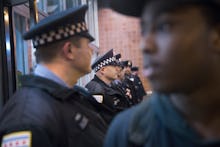 The use of lethal force by U.S. police has been a point of contention among activists and their communities for decades. On Friday, the frequency with which members of the Chicago Police Department have unholstered and discharged their service weapons became clearer.
A Chicago Tribune analysis of police shooting reports from 2010 through 2015 revealed that Chicago officers shot at people, on average, every five days. That's 435 shootings, resulting in 92 deaths and 170 injuries.
A tally by the Washington Post indicates that in 2015, police fatally shot nearly 1,000 people in the U.S.
According to the Tribune, it took seven months of "struggles with Chicago police" to get the police shooting data through public record requisitions. The compiled data represents "an unprecedented database" of lethal force incidents, according to the outlet.
"While a few of those [shooting] incidents captured widespread attention, they occurred with such brutal regularity — and with scant information provided by police — that most have escaped public scrutiny," wrote the team of reporters who compiled the data.
The newspaper's finding also revealed some racial trends. Among them: 
Approximately four out of five people shot by police were black males, about half of officers doing the shooting were black or Latino, and officers who fired, on average, weren't rookies. 
The Tribune's analysis also showed that police shootings have declined over the six years for which it has the data. The more than 100 shootings in 2011 fell to 44 in 2015.
In response to the newspaper's findings, Dean Angelo Sr., president of the Chicago Fraternal Order of Police, said that if more people complied with officers' commands, there would be fewer shootings.
"What happens is, if you reach for your waistband or don't drop the knife, if you don't stop going for the gun or if you point the gun at me, then my response is going to be weapon engagement," he told the Tribune. "And sometimes it happens in seconds. Not even."
The newspaper's analysis comes one week after the Chicago police superintendent, Eddie Johnson, recommended the firing of seven officers involved in the 2014 shooting death of Laquan McDonald.
Warning: The following video contains graphic images.
The incident — and the department's alleged withholding of damning dashcam footage — strained already tense relations between the black community and the Chicago police force. Amid weeks of protests, the U.S. Department of Justice's launched a pattern or practice investigation of unconstitutional policing in Chicago.
The probe is expected to result in recommendation that the department overhauls its use of force training to emphasize de-escalation, the Tribune reported.