Dave Chappelle says "Black Lives Matter is a terrible slogan" at recent comedy show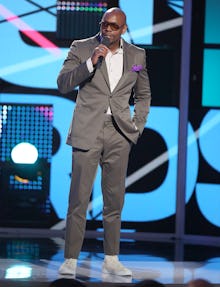 Dave Chappelle has never been shy on the topic of race — he has a reputation for being socially conscious and pro-black. 
On Saturday, however, the "woke" comedian reportedly blasted "black lives matter" as a slogan and questioned the wisdom of activists being exclusively pro-black. Reached Monday, a spokeswoman for Chappelle said his comments were not an attack on the movement.
According to a writer for celebrity news site Showbiz411, Chappelle remarked to an audience at New York City's Cutting Room that he doesn't like the activist rallying cry coined in 2013 by the co-founders of the Black Lives Matter network.
"Black lives matter is a terrible slogan," Chappelle reportedly said during a trial run for upcoming performances in the Big Apple. He also said, "When did it become just caring about ourselves and not caring about other people?"
Later, Chappelle reportedly said that NBA player Dwyane Wade's hashtag "#EnoughIsEnough" is a better slogan for addressing social inequality in the black community.
Carla Sims, Chappelle's publicist, said the comedian was not taking a swipe at the Black Lives Matter movement. To the contrary, he's a big supporter of the movement and only made the "terrible slogan" remark as a commentary on the fact that people have to say it at all, she said.
"It's a comedy show," Sims told Mic by phone Monday afternoon. "Saying 'black lives matter' is like calling gum chewy."
The 43-year-old comedian has been preparing for a handful of upcoming intimate shows at the Gramercy Theater. Some Twitter users said Chappelle did not allow attendees to bring in their cell phones for the warm-up show at the Cutting Room, likely because he was giving new material a trial run.
Chappelle has been seen as thoughtful, even poignant, about the spate of police-involved deaths in the black community. He has also supported black families touched by police and gang violence.
"The biggest enemy of an artist is apathy," Chappelle said at an event hosted by the hip-hop mogul Russell Simmons in 2015. "A kid gets killed by the police and I buy a T-shirt and before I can wear that one, there's another kid [killed] and I'm running out of closet space."
Chappelle is scheduled to play the Gramercy Theater Monday, Aug. 29 and Aug. 30, as well as Sept. 1.
Aug. 29, 2016, 6:20 p.m. Eastern: This story has been updated.