Beyoncé's 2016 VMA performance drew the usual amount of Fox News backlash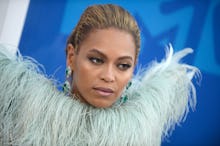 By now, Beyoncé can probably set her watch to conservative outrage over her art. Right-leaning cable news brand Fox News kicked into overdrive Monday morning — not even a full day after the pop icon's appearance at the MTV Video Music Awards in New York City on Sunday.
Pundits took issue with the singer seeming to reference the Black Lives Matter movement, interpreting choreography in Beyoncé's performance as a thinly veiled commentary on police-involved deaths of African-Americans that have sparked nationwide protests in the last few years. 
Other than appearing on the "white carpet" with the mothers of African-Americans who were killed by police officers or due to race-based violence, Beyoncé offered no explicit statement about policing on Sunday. Still, the pundits accused the singer of peddling a false narrative about police.
"I saved more black lives than any of those people you saw on stage by reducing crime and particularly homicide by 75 percent," former New York City Mayor Rudy Giuliani told the hosts of Fox and Friends on Monday. He was asked about a moment in Beyoncé's medley performance of her Lemonade album during which dancers fall to the floor, as if they were shot, under spotlights that change from white to red.
Aside from bragging some more about his record as mayor of the Big Apple, Giuliani later added that Beyoncé's recent commentary on policing was "a shame."
Giuliani is right about one thing: During and after his time as mayor, New York City saw violent crime rates, including homicides, fall to historic lows citywide. But that drop had little to do with him. It also came at the expense of civil liberties for people of color — the so-called "stop and frisk" approach to policing was racially discriminatory, unnecessarily criminalized residents in unconstitutional ways and contributed to a perception of police that the former mayor and others decry.
The attacks on Beyoncé's motives didn't stop with Giuliani. Fox and Friends' Brian Kilmeade went on to inaccurately describe the singer's performance. 
"Beyoncé played [at the VMAs] for about 45 minutes," Kilmeade said.
Beyonce performed for about 15 minutes.
"She did her entire album, I think," the host said.
No, Beyonce performed a handful of tracks from Lemonade.
"But one of the things that stuck out with us is the fact that she did a mock dance scene where African-American dancers were getting shot and the light turned red, as if cops assassinate black people at a dizzying rate," Kilmeade said.
Well, according to studies about police violence, blacks were shot by police at more than twice the rate of whites in 2015, President Barack Obama said in July. Obama cited the data after the July police shooting deaths of Philando Castile and Alton Sterling.
But statistics are merely a small detail for former Republican presidential candidate Herman Cain, who also appeared on Fox News to criticize the singer's narrative about police violence. Cain said Beyoncé and the Democrats, during the party's convention in Philadelphia last month, failed to include the perspective of police after ambushes that left several dead in Texas and Louisiana in July.
"Beyoncé and her producers are entertainers," Cain said. "They're not political activists. ... They are utilizing the liberal media to send the wrong perception about what this is about." 
Cain went on to say that this image creates an unbalanced view that "doesn't represent what people experience every day."
The hosts of Fox and Friends didn't go into much more depth than that on the subject. But perhaps their segments on Beyoncé's VMA performance means she is well on her way to being Fox News' favorite person to talk about in 2016.