A black woman in New York was allegedly fired from her hotel desk job for her dreadlocks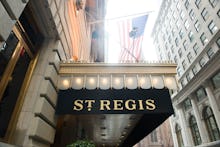 Rachel Sakabo, a 32-year-old living in New York City, was thrilled when she landed a job at the front desk of Manhattan's St. Regis hotel. After rigorous trainings instructing Sakabo on how to interact with customers and represent the luxury hotel, Sakabo claims just two weeks into her job she was fired because of her dreadlocks.
According to BuzzFeed, Sakabo says a manager told her she couldn't "have braids at the front desk," to which she replied, "Well, don't worry, they aren't braids. They're locs." 
When the manager allegedly asked Sakabo if she could "unlock them," Sakabo informed them dreadlocks could only be cut off completely — which she told BuzzFeed she would have been willing to do.
After consulting with a black colleague, Sakabo relayed the incident to New York Hotel Workers Union, whose representatives told her they had no recourse since she hadn't yet been employed for 60 days. 
A week later, Sakabo was told she wasn't a "good fit" for the job and was "let go."
"I don't think I was rightfully let go," Sakabo told BuzzFeed. "I definitely think it has to do with the fact that I'm black and I have dreads."
Sakabo told Mic she's reached out to an attorney to take action on the alleged incident of discrimination; she's currently unemployed and looking for a new job. In the meantime, Sakabo hopes her story sends a message that such treatment is "not okay."
When Mic reached out to the St. Regis, a human resources representative said she was unable to comment on the allegations.
A document Sakabo gave BuzzFeed shows the St. Regis' "appearance standards," which call for "conservative" hair that does not "fall on the face or obscure eye-to-eye contact." Though it says hair may need to be "pulled or tied back," there's no mention of dreadlocks. 
Sakabo said if her hair had never been mentioned, she wouldn't find her firing as suspect. But since it had — and since black women's hairstyles are a perennial target of criticism and ridicule — she told BuzzFeed she's left feeling hurt and confused.
"It's rude and disrespectful, and so damaging," she told Mic. "As a woman, it feeds into the insecurity of not being enough because your look is unacceptable; like being 'politely' told you're ugly."
She finished, "I shouldn't care what I look like as long as it is in line with policy. I came to work."