Colin Kaepernick, like many millennials, embraces "constructive patriotism"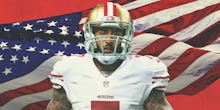 NFL star Colin Kaepernick continued his silent protest Thursday night by refusing to stand for the national anthem during the San Francisco 49ers final preseason game. The star quarterback has stirred up a national controversy over the last week by refusing to engage in the common display of patriotism to protest police violence in the United States.
"I'm going to continue to stand with the people that are being oppressed. To me this is something that has to change," Kaepernick told the San Francisco Chronicle about ongoing police brutality that has been highlighted by the Black Lives Matter movement.
Kaepernick is one in a long line of black athletes who've used their public platforms to call for political transformation. In his memoir, Jackie Robinson famously wrote about his feelings toward displays of patriotism while he was trying to integrate Major League Baseball. "I cannot stand and sing the anthem. I cannot salute the flag," he wrote. Muhammad Ali refused to serve in the Vietnam War. Baseball player Carlos Delgado refused to sing "God Bless America" because he opposed the Iraq War.
But in taking a stand by sitting down, Kaepernick, 28, is also emblematic of a more recent trend: Millennials like him tend to think of patriotism differently than older Americans. According to a 2014 study from the Pew Research Center, millennials are less likely than their elders to feel pride for their country, and are less given to nationalistic displays — only 49% of millennials describe themselves as patriotic, compared to 64% of Gen-Xers and 75% of Baby Boomers.
"There's nothing more patriotic than wanting more from your country."
It's not that millennials don't love their country. Along the patriotic spectrum — from blind faith in one's country to unyielding criticism of it — is what social scientists call "constructive patriotism." It's what happens when a person acknowledges their country's flaws and works to change them. Among America's politically engaged millennials, the sentiment is becoming more popular than ever.
"There's nothing more patriotic than [wanting more] from your country," said Efrén O. Pérez, a political scientist at Vanderbilt University, in a phone interview. "You must have courage to do [what Kaepernick] did."
Military service members have long been viewed as the ultimate patriots, but even millennials in the armed forces don't see patriotism and criticism of the country they love as irreconcilable. Jonathan Hubbard, a 26-year-old African-American army veteran who now lives in Chattanooga, Tennessee, served four years in the army, which took him as far as Korea and Afghanistan. "I went in to advance myself and I knew that I would not be letting the American citizens down," he said.
But during his time in the military, Hubbard became increasingly critical of sacrificing for a country that he didn't feel would do the same for him. He left the military at the beginning of 2016 — a year in which the extrajudicial killings of black men have continued to make headlines across the country.
The final straw for Hubbard was July 6, 2016, when a police officer in Minnesota shot and killed Philando Castile, a 32-year-old unarmed black man who was in a car with his girlfriend, Diamond Reynolds, and Reynolds's young daughter. Castile's death came one day after Alton Sterling, another unarmed black man, was shot and killed while selling CDs outside of a store in Baton Rouge, Louisiana.
After those incidents, Hubbard decided to stop singing the national anthem to protest the conditions that black people face in America. "I care about this nation, but at the same time, why am I singing a lie?" Hubbard said.
After Kaepernick announced his protest last week, Hubbard started a Change.org petition to change the national anthem to "Lift Every Voice and Sing," often referred to as the "black national anthem."
"Until we can 'hold these truths to be self evident,'" Hubbard said, referencing the Declaration of Independence, "then I'm done."
Age isn't the only factor that plays into how Americans express their patriotism. Their experience with racial injustice also colors their view of America's promise.
"Race matters deeply," Pérez said. In one study he conducted, Pérez asked people of different races a series of questions about patriotism and national attachments and ascribed them scores based on their answers. He found that black and white Americans are similarly patriotic, but have different views about American history. For instance, African-Americans are more likely to have a critical view of America's history thanks to the legacy of slavery, and are less likely to feel pride in America's past.
This finding resonates with Hubbard. 
"If you're a person of color in this country, especially if you're black in this country and fall in bottom of virtually ever demographic statistic, [the national anthem] doesn't really apply to us," he said.
Christopher Barnes, another African-American army veteran who served in Iraq, has also vowed to not sing the national anthem after Kaepernick's protest. Barnes, 35, was raised in a military family; his parents both served in the United States Army and met while stationed in Texas. After serving in Kuwait and Iraq, he returned home to Harrisburg, Pennsylvania. "War doesn't operate in a vacuum," Barnes said. "It operates in minds, bodies, hearts, and environments." 
When he touched down at the airport near Harrisburg, Barnes realized that so much of what he had fought for abroad still wasn't a reality at home. Harrisburg, a majority black city of just under 50,000 residents, still had a median income of slightly more than $32,000 per year, making it one of Pennsylvania's poorest cities; 34 percent of the city's residents live in poverty.. Its black communities were still mired in poverty and violence.
"All of what's going on right now," he said, referring to the police shootings that have inspired protests and Donald Trump's contentious presidential campaign,  "is a testament to the fact that we don't live up to that motto [of the United States]: 'Out of many, one.'" Barnes continued: "I took [an] oath [in the military] and realized that at the end of the day I could die, and I think that should be respected, but a lot of times as a black man in America, no one takes the time to get to know you or anything, you're seen as a deviant."
For his part, Hubbard plans to organize a protest of the national anthem at a local high school football game this fall. "Hopefully it'll start conversation," he says. "If people start talking about why we're protesting the national anthem, then that'll lead to a conversation that needs to be had that a lot of people do not have, especially in the South."