Florida prosecutor Angela Corey just lost her re-election bid in a blowout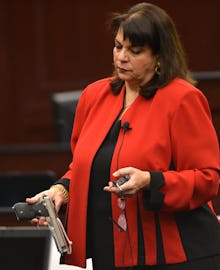 Florida state's attorney Angela Corey, the lead prosecutor on the case where George Zimmerman was ultimately acquitted, has lost her bid for a third term as state attorney.
Corey was first elected for the Sunshine State's Fourth Judicial Circuit in 2008, and won reelection in 2012. She lost Tuesday's primary election to Republican challenger and former assistant state attorney Melissa Nelson, who ran as a "strong Constitutional conservative" yet nonetheless promised to rein in some of Corey's alleged excesses as a prosecutor.
Nelson won decisively in all three Jacksonville-area counties, according to Florida news station WOKV: "In Duval County, Nelson got 65 percent compared to Corey's 27 percent. In Clay County the results were 64 to 23 percent. In Nassau County, Nelson won 57 to 25 percent."
According to the Florida Times-Union, Nelson must now only defeat write-in candidate Kenny Leigh in the general election on Nov. 8 to secure the state attorney position.
Zimmerman's acquittal on murder and manslaughter charges for killing unarmed black teen Trayvon Martin sparked protests and social media campaigns under the "black lives matter" slogan — and less than a year later, the slogan grew into a national movement founded by three black queer women. But Corey hardly went on to redeem herself in the eyes of progressives, after botching the Martin case.
Since being first elected in 2008, Corey has become among the most reviled state law enforcement officials in the nation — largely a prosecutorial record that projected her as coldhearted toward defendants of color.
In 2012, she prosecuted Marissa Alexander, the black mother who fired a warning shot to protect herself from her reportedly abusive husband. Corey has also overseen dozens of prosecutions of mostly black minors who she charged as adults for committing "very adult crimes," she told the Nation.
In a statement sent to Mic, Northeastern University law professor Daniel S. Medwed said Corey's defeat indicated "the era of tough-on-crime rhetoric is coming to a close as voters realize that overzealous prosecutors have abused their power for too long. Voters are ready for a state's attorney who will focus on long-term solutions, rather than short-sighted policies that make them sound tough, but don't result in equitable or sustainable results."
Corey had also developed a somewhat adversarial relationship with members of the press, especially those who wrote critically of her statements and conduct in office.
Nelson and Wes White, a former subordinate of Corey's who also ran against her, criticized the state attorney's relationship to the press, according the Florida Times-Union.
"The State Attorney's Office is not a private office that has the luxury of not responding to the newspaper," Nelson told the news outlet.
White chimed in: "The failure to do that has been an unfortunate hallmark of [Corey's office]."
Tom McKay contributed reporting to this story.