The 'Mic' ladies tried out Athleta's new compression gear — and here's what we thought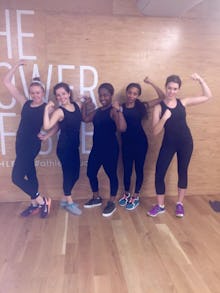 Standing out in an over-saturated athleisure market isn't easy, but this is exactly what Athleta is trying to do with its new 360-degree stretch fabric. 
The Gap-owned fitness apparel brand used fiber technology, which it has dubbed Sculptek, to create four pieces (a bra, tank, capri pant and tights) meant to hug your unique body shape as you move.
"Since our inception, Athleta has been a pioneer in creating performance apparel for active women," a brand spokesperson said to Mic. "Our designers and team are athletes and women leading active lifestyles. We embrace the challenge of 'what can we do with this technology to take her activity to the next level while making her feel great?'"
Unlike most athletic gear that tightens as you stretch, or just simply causes you to re-adjust every few minutes, items within the Stealth collection are made with compression panels to give a "consistent level of hold" as well as the "the ultimate fit and feel." Or, in other words, they've been designed to stay put. 
While the pieces can be worn at any time — like most athletic gear is these days — they were specifically created for active workouts. With that in mind, five Mic ladies decided to test the recently-released products during a workout class that featured a mix of yoga, pilates and barre, at an Athleta studio in New York City. 
Turns out some loved that the items stayed dry and didn't move throughout the workout, while others thought the products were way too tight. 
Erin Evans, senior Identities editor
"I really liked Athleta's new workout gear. I notoriously sweat a lot during my workouts, and a lot of the clothes I have don't adequately support my high intensity workouts slash gross, sweaty sessions. But I felt pretty dry throughout my workout. Two other highlights: I felt supported everywhere in the leggings and the bra. In many leggings, I'll have to pull them up during my workout — over my lil' tummy pooch — but these stayed put. And the adjustable sports bra is pretty clutch as I work on firming up my upper body."
Leigh Cuen, Connections writer 
"The class was upbeat and definitely made me work up a sweat. Other participants felt all those squats and lunges in the stretchy pants really showed off how flexible the fabric is. I adored the Athleta sports bra, which magically doesn't get damp from sweat and offers incredible support without any sense of constricting, but found wearing the skintight pants akin to torture."
Claire Kiely, branded content strategist
"The usual 'saggy-butt' crisis of workout pants was averted. Rather than constantly having to pull up my pants after each series of exercises, they stayed conformed to my body and stretched along with any lunges, twists or other movements that would usually inspire drooping. When moving laterally I noticed a big difference in the stretch along the side of my leg. The shirt was too form fitting and made me feel a bit too much like a sausage in its casing."
Alex Orlov, Food writer 
"The capris came up to my belly button and stayed put throughout the workout — way better than some other spandex I own that shimmies down my waist when I move. The fabric really moved with every lunge and jump. The modest boob coverage meant my cleavage didn't get X-rated during squats and the firm compression kept the boob bounce factor to a minimum. The tank was the weakest link. I personally didn't love the extra ruching that's meant to flatter the midsection, because the extra fabric made me sweat more during the workout. But I bet a lot of ladies (or gentlemen) might appreciate the extra support or the flattering fit. I prefer a lighter and more breathable top."
Ashley Edwards, News editor
"I didn't really see what the big difference [was] between the Athleta workout clothes and the workout clothes I buy on the sale rack at Marshall's. One thing I did notice however was how tight they were. Also, I wasn't a huge fan of the tank top, as it came up pretty high and felt constricting. What I enjoyed about the clothes is that they stayed dry while I was working out and sweating a lot."
The Stealth collection, with price ranging from $68-$98 is now available in Athleta stores and on its website.