Now we know what the Democratic Party really thinks of Black Lives Matter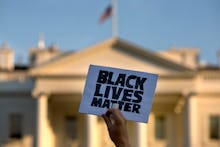 Thanks to a recently leaked confidential memo, we now know what the Democratic Party has to say about Black Lives Matter behind closed doors.
The memo, made public late Tuesday by hacktivist blog Guccifer 2.0, says it was originally sent on Nov. 19, 2015, by the Democratic Congressional Campaign Committee's Troy Perry, who now works on Hillary Clinton's campaign. 
The memo describes Black Lives Matter as a "radical movement to end 'anti-black racism'" and advises Democratic officials not to "offer support for concrete policy positions." 
This summer, the Movement for Black Lives released its long-awaited policy platform. The platform included several specific recommendations to, as the group wrote, "end the war on black lives," including putting an end to the use of predictive policing software and police officers in schools.
In a section on "tactics," the memo further advises officials to meet with local activists and aim for smaller groups. Black Lives Matter activists "don't want their movement co-opted by the Democratic Party," the memo reads.   
The memo also warns politicians against saying controversial phrases like "all lives matter" and "black-on-black crime" because they're viewed as "red herring attacks." Opponents of the movement have countered the "black lives matter" mantra by arguing that "all lives matter," and have deflected attention away from police brutality by arguing that those concerned with violence against blacks should focus on intra-racial violence instead. 
In a statement to Mic, the DCCC wrote that it values the contributions of Black Lives Matter. "The DCCC highly respects and values the leadership of the Black Lives Matter movement," said Meredith Kelly, DCCC's national press secretary. "In less than two years, BLM has evolved from three words into a political force that is changing and waking our nation.  At the DCCC, we highly encourage our candidates to not only embrace the importance of this movement, but to meet with and listen to community activists to partner social change.
"We will not allow this hacking to distract from our common goals nor disparage the BLM movement.  We continue to welcome further engagement with activists and BLM leaders nationwide." 
Conversely, Black Lives Matter expressed its disappointment. "We deserve to be heard, not handled," the group said. "People are dying."
It continued: "We demand and are fighting every day for a radical transformation of American democracy where all Black lives are valued. We expect that our elected officials will stop pacifying and take us seriously."
The memo came at a time when the Democratic Party was trying to avoid any more public embarrassments with black activists, who'd called out a number of Democratic politicians for their positions on issues of racial equity and police reform. Former Maryland Gov. Martin O'Malley, for instance, was lambasted by activists for saying, "Black lives matter. White lives matter. All lives matter." Activists have also confronted Bernie Sanders and Hillary Clinton on the campaign trail about their positions on issues of policing and criminal as well as racial justice. 
August 31, 2016 at 2:49pm EST: This story has been updated with comments from the DCCC.
August 31, 2016 at 2:32 pm EST: This story has been updated with comment from Black Lives Matter.